People look at a black BMW sedan driven by a drive-by shooter today in Isla Vista, Calif.
ASSOCIATED PRESS Enlarge
GOLETA, Calif. — The gunman in the Isla Vista, California, shootings has been identified as Elliot Rodger, a 22-year-old student at a city college who had three previous contacts with local law enforcement, Santa Barbara County Sheriff Bill Brown told reporters on Saturday.
The gunman drove through Isla Vista in a black BMW, shooting at people in the beachside community where many college students live. Seven people died in the rampage, including the suspect who was found dead inside of a crashed vehicle with a gunshot wound to the head, authorities said. The rampage left seven people dead, including the attacker, and seven others wounded, authorities said today.
The gunman got into two gun battles with deputies Friday night in the beachside community of Isla Vista before crashing his black BMW into a parked car, Santa Barbara County Sheriff Bill Brown said.
Deputies found him dead with a gunshot wound to the head, but it wasn't immediately clear whether he was killed by gunfire or if he committed suicide, he said.
A semi-automatic handgun was recovered from the scene near the University of California, Santa Barbara.
Investigators know the gunman's name, but Brown said he couldn't release it pending notification of relatives.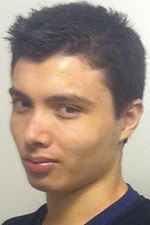 Rodger
Police are investigating a disturbing YouTube video posted that shows a young man describing plans to shoot women, which they say appears to be connected to the attack. Police would not say whether the person in the video was a suspect in the shooting.
"We're analyzing both written and videotaped evidence that suggests that this atrocity was a premeditated mass murder," Brown said.
The shootings started around 9:30 p.m. in the student enclave reputed for parties, including an annual spring bash that turned into a violent blowout last month. Brown said the shootings occurred at several sites, resulting in nine crime scenes.
A student told KEYT-TV he saw shots fired from a BMW, fatally striking one woman and critically injuring another woman.
"I heard shots, scream, pain," Michael Vitak said. "All emotions. I hope she is going to be fine."
A visibly shaken student told the station she was approached by the driver of a black BMW who flashed a handgun and asked "Hey, what's up?" The student, who didn't provide her full name, said she thought he was carrying an airsoft gun and kept walking. She said seconds later, she felt something buzz by her head and quickly realized they were bullets.
The victims' identities were not immediately released. Brown said the injured were being treated for gunshot wounds and traumatic injuries, including at least one person who underwent surgery for life-threatening injuries.
Isla Vista, a roughly half-square mile community next to UC Santa Barbara's campus and picturesque beachside cliffs, is home to 23,000 people. The area has a reputation for excessive partying. Last month, an annual spring bash spiraled into violence as young people clashed with police and tossed rocks and bottles. A university police officer and four deputies were injured and 130 people were arrested.
Guidelines: Please keep your comments smart and civil. Don't attack other readers personally, and keep your language decent. Comments that violate these standards, or our privacy statement or visitor's agreement, are subject to being removed and commenters are subject to being banned. To post comments, you must be a registered user on toledoblade.com. To find out more, please visit the FAQ.