Alabama hunters haul in 1,000-pound alligator
8/18/2014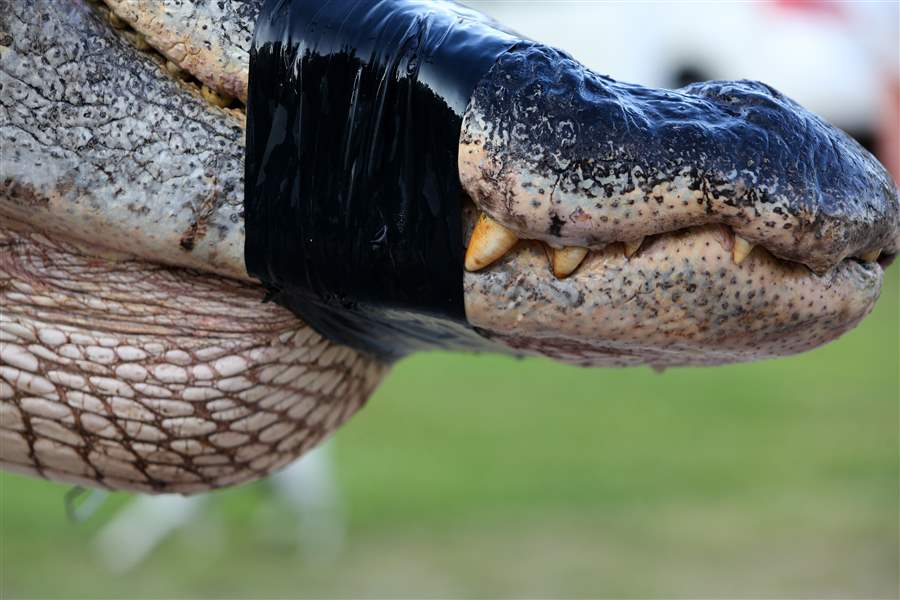 In this Saturday, Aug 16, 2014 photo, a large alligator weighing 1011.5 pounds measuring 15-feet long is pictured in Thomaston, Ala. The alligator was caught in the Alabama River near Camden, Ala., by Mandy Stokes and family, according to AL.COM. (AP Photo/Al.com, Sharon Steinmann)
ASSOCIATED PRESS
An alligator weighing 1011.5 pounds measuring 15-feet long was caught in the Alabama River near Camden, Ala., by Mandy Stokes at right, along with her husband John Stokes, at her right, and her brother-in-law Kevin Jenkins, left, and his two teenage children, Savannah Jenkins, 16, and Parker Jenkins, 14, all of Thomaston, Ala.
CAMDEN, Ala. — A group of Alabama hunters is celebrating the catch of a lifetime: A 15-foot-long alligator weighing more than 1,000 pounds.
Al.com reports the monster gator was pulled from the water in south Alabama early Saturday during the state's alligator hunting season.
Alabama Wildlife and Freshwater Fisheries biologists were able to measure the gator at 15 feet, but weighing it posed a challenge.
The first attempt completely destroyed a winch assembly used to hoist most average gators. So they had to use a backhoe to lift the animal. It weighed in at 1,011.5 pounds.
The gator is the largest ever legally killed by an Alabama hunter. It was caught by Mandy and John Stokes, Kevin Jenkins and his children, 16-year-old Savannah and 14-year-old Parker.