'They entered eternity as heroes': President Trump takes part in Flight 93 remembrance
9/11/2018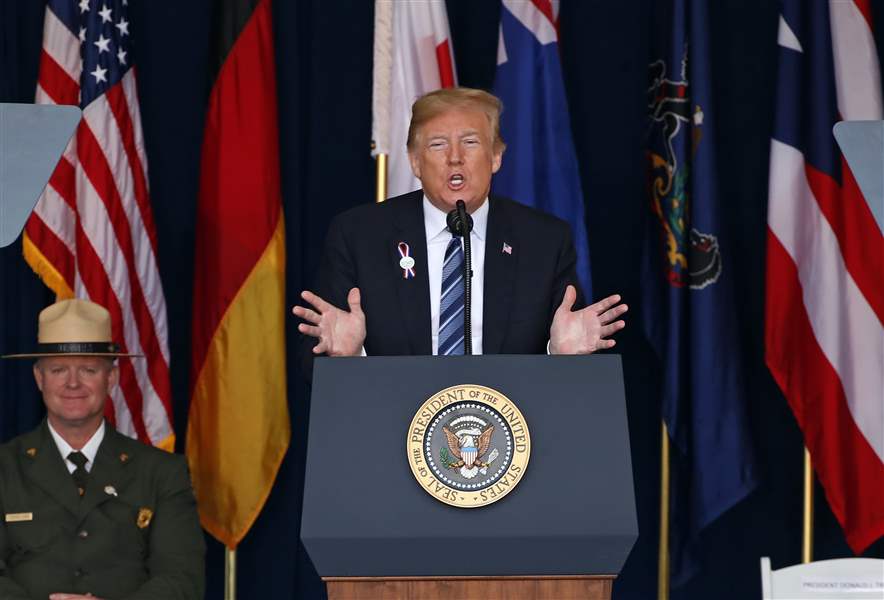 President Donald Trump speaks during the September 11th Flight 93 Memorial Service in Shanksville, Pa., on Tuesday. Stephen Clark, Superintendent of the National Parks of Western Pennsylvania, is left.
ASSOCIATED PRESS
STONYCREEK, Pa. — President Donald Trump paid tribute Tuesday to the 40 people killed 17 years ago aboard United Airlines Flight 93, saying the country would honor them by never flinching "in the face of evil."
"They boarded the plane as strangers, and they entered eternity as heroes," Mr. Trump said before hundreds of people gathered at the Flight 93 National Memorial near Shanksville, Somerset County.
In a 15-minute speech during an annual remembrance, Mr. Trump recounted personal stories of those aboard the hijacked flight during the Sept. 11, 2001, terrorist attacks.
RELATED: A list of the 2,977 victims of the Sept. 11, 2001, terror attacks
The passengers and crew fought back against the hijackers, leading to the crash in rural Western Pennsylvania that certainly saved other Americans in Washington, D.C., Mr. Trump said. A monument since constructed at the memorial here stands as a symbol of American defiance, illustrating that the country will "never submit to tyranny," he said.
Stephen Feuerman poses for a photo in front of Marjory Stoneman Douglas High School in Parkland, Fla., on Aug. 27, 2018. Mr. Feuerman, who was working in the Empire State Building on 9/11, sold his Westchester home within months and the family moved to Parkland seeking a safer place to live and work. Seventeen years later, their two kids were in school on the day of the shooting.
"America will never forget what your loved ones did for all of us," Mr. Trump said, addressing families of the deceased.
Hundreds of people began assembling early in the morning at the memorial, where shuttle buses ferried visitors from a muddy parking lot to a grassy seating area filled with lines of white plastic chairs. The soppy fields, heavily guarded by Secret Service and National Park officials, squished under foot after days of rain.
A hush settled over the scene about 9:30 a.m., as the U.S. Navy Brass Quintet began playing after the aircraft's arrival.
After the ceremony began, the names of the passengers were read aloud.
"They challenge us to live strong lives, courageous lives, for others," said the Rev. Paul Britton, speaking of those who perished on Flight 93. He led a moment of silence before reading the names — including his sister's, Marion R. Britton.
Also attending today's observance were Gov. Tom Wolf, former Gov. Mark Schweiker and Interior Secretary Ryan Zinke.
"It was here that freedom took its first stand," said Mr. Schweiker, who followed Mr. Wolf among the speakers.
The observance marks 17 years since the Sept. 11, 2001, terrorist attacks. It will be Mr. Trump's first visit to the memorial since his inauguration, according to the White House.
This also is the first presidential visit to the memorial since 2011, when President Barack Obama and first lady Michelle Obama paid their respects.
Tuesday's gathering followed the dedication Sunday of the Tower of Voices, a 93-foot concrete tower at the memorial that will eventually hold 40 wind-activated chimes — one for each of the 40 passengers and crew members aboard Flight 93.
The memorial, operated under the National Park Service, draws about 300,000 visitors a year.
Nearly 3,000 people were killed in the 9/11 attacks, when hijackers flew commercial airliners into New York's World Trade Center, the Pentagon and a field about 65 miles southeast of Pittsburgh in an attack planned by al-Qaida leader Osama bin Laden. Nearly a decade later, bin Laden was killed in May 2011 during a U.S. military operation ordered by Mr. Obama.