Toledo native, podcast host Clark knows his "Stuff"
3/8/2018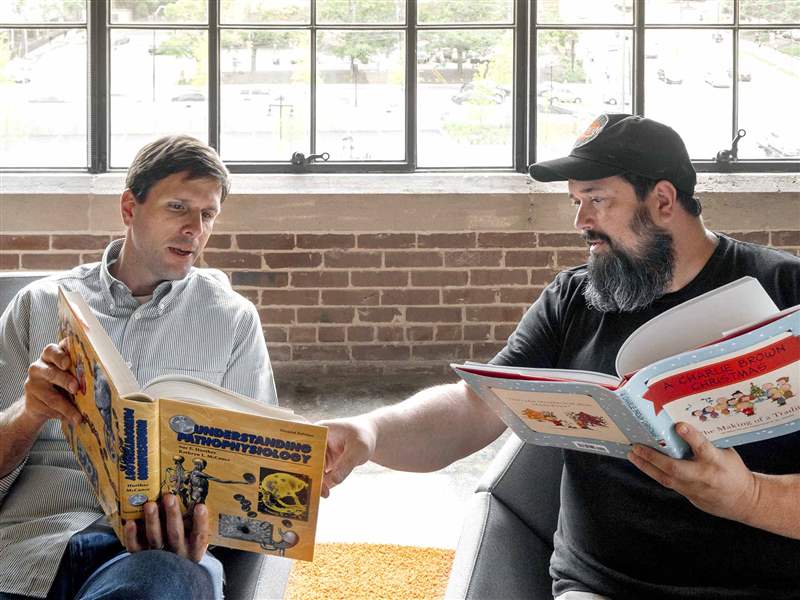 Topics on the podcast "Stuff You Should Know," hosted by Toledo native Josh Clark, left, and Chuck Bryant, range from How Dying Works and How Leper Colonies Worked to How Tickling Works and How Ketchup Works.
The variety of topics is dizzying — Mold-A-Rama, Pompeii, feral children, and knife throwing. And those are just the topics covered by the award-winning Stuff You Should Know podcast in February.
Over the course of nearly 10 years and more than 1,000 episodes, Josh Clark and Chuck Bryant have touched on myriad subjects, too numerous to count. It goes along with one of the show's mottos, to explain absolutely everything eventually.
Bryant and Clark, a native of Toledo, are well on their way to doing just that.
"We're professional researchers who just happen to be good at talking when you put the two of us together in a room," Clark said. "There's hard work involved with the research, and then there's a lot of luck that if you put me and Chuck together, something that is larger than the sum of its parts happens."
One of those parts spent the first 14 years of his life in south Toledo; Clark grew up near the Anthony Wayne Trail around Beverly Drive and Rugby Drive, just outside of Maumee. After attending Beverly Elementary and Byrnedale Junior High, Clark was accepted to St. John's Jesuit for high school. Just before that happened, though, the Clark family moved to Georgia.
Despite moving from Toledo nearly three decades ago, it's not uncommon to hear him recall memories of growing up in Toledo on the podcast. On a recent episode about Mold-A-Rama, vending machines which make injection molded plastic figurines, Clark reminisced about visiting Children's Wonderland in Maumee.
When he was 14 years old, Clark moved with his family to the South, and he admitted there was quite a bit of culture shock. Soon after they moved, his mom sent him into a Winn-Dixie grocery store to buy Wonder Bread. So imagine Clark's surprise when there was no Wonder Bread on the shelves.
"All they had was Dixie Girl bread," he said. "I was 14 years old, had just moved to Atlanta, and I was standing there in the bread aisle just sweating bullets, overcome with culture shock. 'They don't have Wonder Bread, they have this weird Dixie Girl bread, that doesn't even make sense.'"
But it's both his experiences growing up in Toledo and Atlanta — and the point in his life at which his family moved — which have helped form Clark.
"If I had moved a little earlier, Toledo might not have had as much of an impact, and if I had moved later, I don't think Atlanta would have had much of an impact, either," Clark said. "The two of them definitely kind of come together and make me, shape who I am."
Clark has stayed south, studying at University of Georgia, before embarking on a career in journalism. In addition to being the co-host of Stuff You Should Know, he's a senior writer at HowStuffWorks.com.
The podcast started in April, 2008, as an extension of the written pieces on the website, lasting less than 10 minutes per episode. While Clark started the show, Bryant joined him a few months later, and soon after that, the show hit No. 1 on the iTunes charts. The show has consistently remained in the top 10 over the entire decade.
VIDEO: The SYSK origin story
In October, the podcast released its 1,000th episode, commemorated with a special two-part series on The Simpsons television show. Clark said the longevity of the podcast isn't surreal because of the hard work the two hosts put in every week, recording two episodes weekly for that entire decade, with a few breaks mixed in.
"What would be surreal is if we would ever stop doing it," Clark said. "That would be a rough transition. And it's not saying we are going to get tired of it and move on; I could do this indefinitely, and I'm pretty sure I speak for Chuck when I say he could too."
Episodes now typically measure 45 to 60 minutes in length and are released twice a week. Recently, they've added a SYSK Selects episode on Saturdays, a best-of selection from one of the hosts. And people love it — the SYSK podcast is downloaded more than 1 million times weekly.
"Both of us on our own are bewildered by this," Clark said. "It doesn't make any sense. There's nothing particularly special about the two of us and our upbringings or anything that leads to what it leads to. And we don't even see it. We have to take everyone's word for it that, yes, there's something special there."
Clark brings up an old quote from Jerry Garcia of the Grateful Dead, who said he's never seen a Grateful Dead show.
"We're aware that other people are hearing something different or getting something out of it that we aren't necessarily because it's us," Clark said. "We just have to say, 'OK, that's great. Everybody's getting something out it.' That's the point.'"
This spring, Clark will release a solo standalone podcast project called X Risks. According to Clark, the series deals with "existential risks, catastrophes so large and so sweeping they could wipe out humanity as a whole. As in, no more humans." Subjects include artificial intelligence, nanotechnology, experiments with viruses, and "particle physics experiments that could conceivably create microscopic black holes and vacuum bubbles."
"The ironic thing is that if something went wrong with one of these technologies as we're learning to master them, we would have accidentally brought about our own demise," Clark said in an email. "Scary and unsettling stuff, but also kind of funny in a cosmic way, like shooting yourself in the foot when you twirl around a six-shooter and don't know what you're doing."
In a later email, he mentioned how difficult it was to be immersed in such a dark, dreadful subject for the last year.
While some of the SYSK podcasts delve into darker territories, there are some easier-to-digest episodes as well, such as tickling, one-hit wonders, and cake. They also tackle hot-button issues, such as recent episodes on impeachment and removing public monuments. They also release annual Christmas and Halloween specials.
Through all that time and those downloads, Clark has become something of a celebrity. He admits he's become accustomed to being recognized in public, but he still enjoys interacting with fans of the show.
"We have the best, most respectful, most down-to-earth fans of any people, anywhere. Anyone who has fans, their fans are not nearly as good as ours," he said. "They treat us like friends, like pals, and that puts you at ease."
The process of putting together each show has become organic and natural for the hosts. Each will spend a few days individually researching the topic for an episode, which are normally based on stories appearing on HowStuffWorks.com. Occasionally, they'll share related topics via emails back and forth to make sure those ideas get their due time on the episode.
When it's time to record, Clark and Bryant find their seats and simply discuss the subject and what they've found. There are no scripts or rehearsals and very little editing by their producer, Jeri Rowland.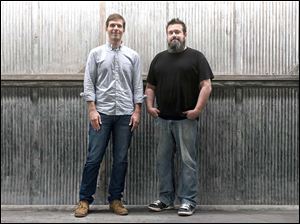 Josh Clark, left, and Chuck Bryant are the hosts of the award-winning podcast "Stuff You Should Know." Clark was born in Toledo and lived in south Toledo before moving to Georgia as a 14-year-old.
Over time, the two have become better broadcasters and researchers, according to Bryant, but they've held steady to their individual roles.
"The best part of working with Josh is that I never have to worry about him not being prepared," Bryant said via email. "His research ethic is incredibly strong, and it's a comforting feeling knowing that even if I'm having an off day, we can have an on day as a team."
It's that teamwork and relationship between Clark and Bryant that's made the podcast such a success. The interplay between the hosts never feels forced or contrived.
"We can't catch it in a bottle," Clark said. "We have to take a zen approach to it and let it be what it is, to have the faith that when we come together to talk about something, it's going to be an interesting conversation."
At no point during that conversation will either Clark or Bryant try to pass themselves off as experts. Clark called the pair dilettantes, researching each topic and jumping to the next. But with that, he also believes it's one of the aspects that has helped keep the podcast popular.
"People like to take experts down a peg as a pastime," he said. "Since we're not experts, people take what we're saying as more approachable.
"We never talk down to anybody, we're not talking about how much we know. It's just we went through the trouble of doing the research and you can listen to us tell you what we found."
The success of the podcast has certainly opened some doors for Clark, including having a standing offer to tour Lucasfilm's Skywalker Ranch in California. Clark and Bryant were also present for a reading of an episode of The Simpsons with the writers and cast.
But Clark said the best benefit has been the people he's met while on the road with the SYSK Live tour. The podcast expanded to live shows on the road, beginning in 2014 with the "SYSK World Tour," with dates in Toronto and Vancouver, British Columbia.
When the tour came through Detroit in 2015, Clark and his wife, Umi, rented a car and made the trip down I-75 to Toledo. Clark took his wife through his old neighborhood and his favorite old haunts.
The current tour is scheduled to stop in Cleveland on May 23, and Clark said he can't be that close to Toledo and not come through for a visit.
"I wouldn't like being that close to Toledo and not seeing it, especially going to Tony Packo's too," he said. "I introduced my wife to Tony Packo's, and now she has a thing for stuffed cabbage as well. She loves it. Any time when we go out and there's stuffed cabbage, she's like, 'Let's get that,' and it was all thanks basically to Tony Packo's."
And perhaps that's a good idea for a future SYSK episode, "How Tony Packo's Works." Clark at least wouldn't have to do much research for that one.
Contact Jeremy Schneider at jschneider@theblade.com, 419-724-6082, or on Twitter @j1schneider.