Mama Duck takes over Sandusky
7/14/2018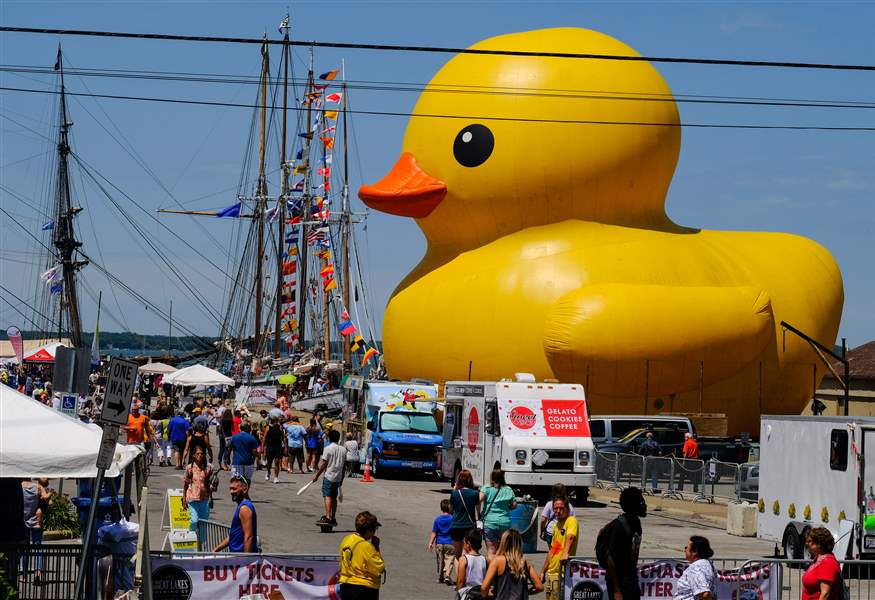 People flock to see the World's Largest Rubber Duck during the Festival of Sail Friday, July 13, 2018, in Sandusky, Ohio.
THE BLADE/JEREMY WADSWORTH
Buy This Image
SANDUSKY — When Craig Samborski reaches out to shake your hand, he shrugs his shoulders and says, "I like big ducks, I cannot lie."
And yes, Mr. Samborski does.
As one of the two owners of Mama Duck, along with Sandusky native Ryan Whaley, Mr. Samborski spends his summers traveling around North American with the world's largest rubber duck in tow. This weekend, Mama Duck is at Jackson Street Pier in Sandusky for the Festival of Sail.
For Mr. Whaley, it's a special weekend visiting his hometown.
"This is really cool doing this event here because it's my hometown," Mr. Whaley said.
WATCH: Mama Duck settles in Sandusky for the weekend
"With the bicentennial, we really wanted to create a splash for Sandusky. There's been a lot going on in Sandusky over the last few years, it's been a major resurgence with a lot of new businesses in town. The duck is a great way to draw attention to it."
Mama Duck makes her way from appearance to appearance via a 53-foot step-deck semi truck, but she didn't have to travel far for her Sandusky appearance — she winters about 10 miles away in an undisclosed location. She was also built in Brunswick, Ohio, so Mama Duck is a proud Ohioan, through and through.
To read more and to watch the full video, download Blade NewsSlide at bladenewsslide.com