NEWSSLIDE EXCLUSIVE
Plates & People visits the Clamdigger to 'get the weird stuff'
9/4/2018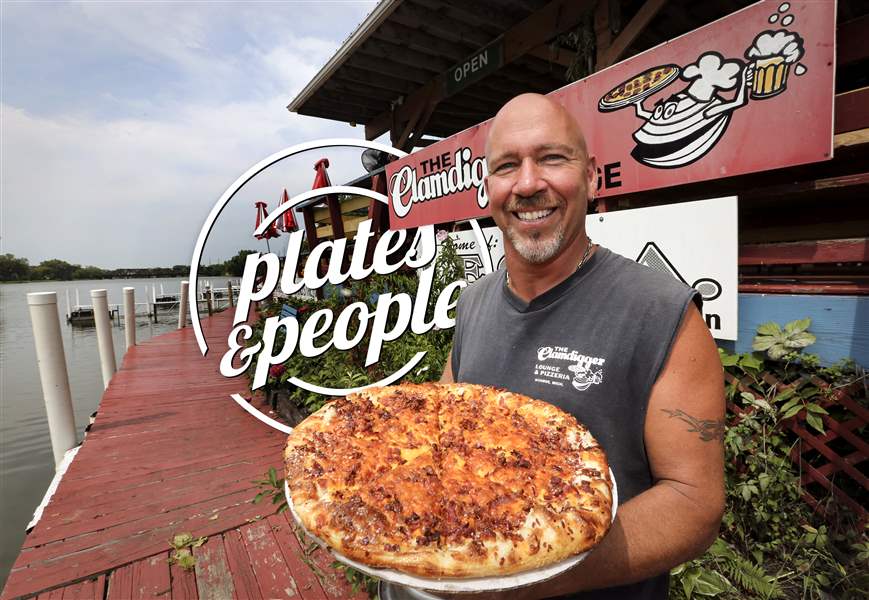 PnP digger Glenn Shannon at the The Clamdigger in Monroe with his Mashed Potato Pizza, Monday, Aug. 20, 2018. The Blade/Andy Morrison
The Blade/Andy Morrison
Buy This Image
The Clamdigger is a beautiful ramshackle of a riverfront hootin' hollerin' haunt in Monroe.
With a boat docking in the background, out at the outdoor bar on a swing-set "stool," owner Glenn Shannon hit us with the finer points of the 'Digger's signature ... pizza? Item? Pizza-like invention?
"People come from all over for the Mashed Potato Pizza," he said.
Why wouldn't they? To have one is to be won over by it, regardless of any pizza purist's definition.
The delicious abomination is like a twice baked potato rounded off by college dorm inclinations. What's crazy too is when you eat it as a traditional slice, it very much starts out like a cheesy, bacon-y potato. But by the time you get to the garlic and Parmesan crust, you're solidly eating pizza.
VIDEO: Mashed Potato Pizza!
""I've seen a guy put it on dry ice and ship it," Glenn told us. "They keep well and reheat great."
Is there anything the Mashed Potato Pizza can't do?
It practically willed itself into existence. Because at first, Glenn was against it.
"I had to be convinced," he said. He even was going to pull it off the menu after it had clawed its way on. But the pie-eyed invention of a former cook so quickly wedged its way into people's tastes — and expectations of fun at the 'Digger — that it's now been on the menu for 20 years and counting.
There's lots of good food at the 'Digger; some straightforward items to be sure. But Glenn wants you to have an experience, and literally encourages everyone to, "Get the weird stuff."
The Mashed Potato Pizza is definitely that. And you won't forget it.
For more information, visit the Clamdigger.
To watch the full video, download Blade NewsSlide at bladenewsslide.com
Contact Phillip Kaplan at pkaplan@theblade.com, and follow on Twitter @filkap; Andy Morrison may be contacted at amorrison@theblade.com