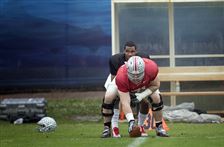 Quarterback Braxton Miller takes snaps from center Corey Linsley as the Buckeyes get ready to play Clemson in the Orange Bowl.
ASSOCIATED PRESS Enlarge
FORT LAUDERDALE, Fla. — In college football, it is not so much about how good you are. It's how good others think you are.
Ohio State coach Urban Meyer knows this, and on Wednesday he found himself willing rival Michigan State to its 24-20 win over No. 5 Stanford in the Rose Bowl.
Forget that the thought of the Spartans made him sick weeks earlier, to the point where he said he could muster only the "phoniest smile you've probably ever seen" in the days after the Buckeyes' loss in the Big Ten championship game. Meyer badly wanted a league cast as a punching bag to deliver a mighty swing of its own.
"I was pulling for the team in green real hard," Meyer said on Thursday. "Just because when I sit in these kinds of environments, [criticism of the Big Ten] gets thrown back and forth. Any time a member of your conference does well in a big game like that, I do think it's important because the truth is the upper-level Big Ten teams are excellent football teams. The conference is getting better. Guys are working extremely hard to close the gap on the SEC."
THREE THINGS TO KNOW
■ Could Tim Tebow be joining the Buckeyes' staff? Coach Urban Meyer and his former Heisman-winning quarterback at Florida, who was hired this week as an analyst for ESPN's SEC Network, have talked about reuniting. "But not serious talks," Meyer said, "because I don't want to disrupt his dream. His dream is to go play quarterback in the National Football League, and I don't think we're there yet that in his mindset that he's done. So nothing serious." A first-round pick by the Broncos in 2010, Tebow was cut by the Patriots earlier this season. Meyer said he recommended the ESPN gig to Tebow. "Tim will excel at anything he does because of his work ethic and his passion," he said. "Tim and I talk frequently. He's like a family member. I just hope he's not done playing."
■ Dabo Swinney joked he knows how Woody Hayes felt when the iconic OSU coach cold-cocked Clemson lineman Charlie Bauman in the 1978 Gator Bowl. "There's been a few times I'd loved to have run out there and punched a few guys myself," said the Tigers coach, who is known for his sideline histrionics. "But I've never crossed that line." Hayes coached 28 seasons at Ohio State before The Punch ended his career.
■ The Orange Bowl isn't the only thing on many of the Buckeyes' minds. Up to a dozen OSU juniors and seniors will begin training next week for the NFL draft — and it's reasonable to wonder if some already have a foot out the door. "We can say that doesn't exist, but that's a flat lie," Meyer said. "Every player that comes to Ohio State, every player with a dream of playing in the National Football League, that is a fact. We don't hide from that fact. If you do a good job of recruiting, coaching, developing, every Ohio State football player should play in the NFL. What round? That's all up to how blessed the individual is. But if I see or hear [NFL distractions], I've done this long enough that I've had to have conversations with people. I haven't felt that with this group at all."
— David Briggs
Now, it is Ohio State's turn.
OHIO STATE NOTEBOOK: Many interested in OSU offensive coordinator
Today's Orange Bowl showdown against No. 12 Clemson presents the chance for another perception-shifting win — for the league, and more important to the Buckeyes, themselves. The result is important not only for the legacy of this season — "12-2 is a lot different than 13-1," Meyer said — but in what it means for next season.
OSU won a school-record 24 straight games, but fell to the first top-15 opponent it faced during the run (Michigan State). With the Buckeyes' strength of schedule questions not going away, a win over a high-end nonconference opponent would be a major credibility builder — and just the kind of boost that could keep an OSU team with one loss in contention for a national title next season.
A four-team playoff begins next year.
"The games that we've won, people don't want to give us credit," OSU defensive tackle Michael Bennett said. "And the one game that we lost, people want to say it's because the team is good, and that we can't beat a good team. So it gives us a little chip. [Clemson] is a good team. It's important to beat them so that people see that we're legit."
While every team in the country plays the no-respect card, the Big Ten is among the nation's favorite targets — and maybe rightfully so. Ohio State's back-to-back losses losses to Florida and LSU in the 2006 and '07 national title games set forth a steady decline in the league's image. The Big Ten is 6-15 in post-New Year's bowl games the past four seasons — including 4-9 against the SEC — and had lost nine of 10 Rose Bowls heading into Wednesday.
Save for the back-to-back title flops, the Buckeyes are the Big Ten's only big-game outlier. OSU is 6-3 in a national-best nine BCS appearances.
Center Corey Linsley said it felt like the country was gleefully waiting for the other shoe to drop.
"We are a little bit underappreciated, but that's the nature of the beast with this university," he said. "People will want to hate on us, but in terms of losing [against Michigan State] we're carrying on the tradition that this university has over 100 years. That's what kind of makes us upset. 13-1 is great for a number of other universities, but for us it's just another season and we get dissed in the media."
This bowl season, the Big Ten is 2-4. Yet Michigan State's win over Stanford offered a major lift, and a win by the Buckeyes could change the game — for the conference and its biggest brand.
"If we win this game," Bennett said, "we'll be confident going into next year."
Contact David Briggs at: dbriggs@theblade.com, 419-724-6084 or on Twitter @DBriggsBlade.
Guidelines: Please keep your comments smart and civil. Don't attack other readers personally, and keep your language decent. Comments that violate these standards, or our privacy statement or visitor's agreement, are subject to being removed and commenters are subject to being banned. To post comments, you must be a registered user on toledoblade.com. To find out more, please visit the FAQ.