Iowa hands OSU its 2nd Big Ten loss
Head-scratching late sequence ends in home defeat
1/13/2014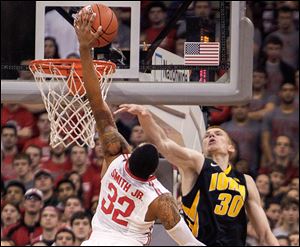 Ohio State's Lenzelle Smith, Jr., tries to dunk the ball over Iowa's Aaron White. Smith finished the game with 10 points.
COLUMBUS — It was an afternoon of promise and exasperation, with LaQuinton Ross caught in the middle.
Ross foreshadowed what the Ohio State basketball team can be when he was at his dynamic best Sunday against visiting Iowa.
The 6-foot-8 junior forward shot over the top of the Hawkeyes' zone and was aggressive inside of it, scoring 22 points and nudging third-ranked OSU to a nine-point lead midway through the second half. This was the pure scorer who dazzled in last year's NCAA tournament, the Ross the Buckeyes need to make another deep run this March.
Yet for now, Ohio State and its most gifted player are a puzzle.
The Buckeyes' path to a Big Ten title got a whole lot tougher after a hail of mistakes led to a 84-74 loss to No. 20 Iowa.
Ohio State (15-2, 2-2 Big Ten) watched its lead slip away in a head-scratching late sequence.
With the Buckeyes leading 65-64, Ross gave the ball to Iowa (14-3, 2-2) on three straight possessions — via an airballed 3-pointer, a steal, and a travel. Iowa scored each time, raced ahead 70-65 with 3:30 left, and soon was celebrating a cornerstone win.
While Fran McCaffery celebrated a victory he called the biggest in his four years at Iowa, Ohio State was left at a familiar crossroads.
The Buckeyes have followed their 15 straight wins to open the season with back-to-back losses for just the third time since 2008 and a sudden inability to hold onto the ball. They had a season-high 21 turnovers in an overtime loss to Michigan State and 17 on Sunday, including five by Ross and six by Aaron Craft.
All the while, a defensive-minded Buckeyes team that had yet to surrender 70 points in regulation had few answers for Roy Devyn Marble (22 points) and forward Aaron White (19 points).
OSU fell two games behind No. 5 Michigan State (15-1, 4-0) and 1½ games behind Wisconsin (16-0, 3-0). Michigan (11-4, 3-0) is also without a league loss.
Is Ohio State in trouble?
"I hope not," OSU coach Thad Matta said. "I say that because you look at the climate of college basketball and what transpires, and then we were in this exact same position last year."
A year ago, the Buckeyes lost three out of four games in February — including a 22-point loss at Wisconsin — only to tear off 11 straight wins and a run to the Elite Eight.
"The biggest challenge is making sure our minds are where they need to be," Matta said. "We're too far from the end of the finish line to panic. ... We just have to find a better way to teach or get them to understand what has to be done to play with consistency."
Said Craft: "The worst thing we can do is feel sorry for ourselves. We can't keep this going. We have to find a way to pick ourselves up."
That includes Ross, who proved adept at redemption.
Five days earlier, he scored only five points on 1-of-7 shooting at MSU, watching the Buckeyes' late comeback from the bench as Matta went with the hotter hand of freshman forward and St. John's Jesuit graduate Marc Loving.
"Marc did a great job at the end of that game," Ross said. "After seeing him put in work like that as a freshman, I didn't worry about sitting out. [But] I wanted to redeem myself from that last game. I think any player would."
And he mostly did, until the end, when all that is good and maddening about Ross' game came together.
Sunday's game displayed Ross' full spectrum — including the good of three 3-pointers and a team-high seven rebounds — and why OSU needs him at his best to fulfill its vast promise.
Amir Williams added 11 points for OSU. Loving had seven points in 10 minutes.
Contact David Briggs at: dbriggs@theblade.com, 419-724-6084 or on Twitter @ DBriggsBlade.