D'Andrea coming on strong for OSU
9/16/2004
Mike D'Andrea, right, celebrates with Ashton Youboty (26) and Bobby Carpenter after tackling Marshall quarterback Stan Hill.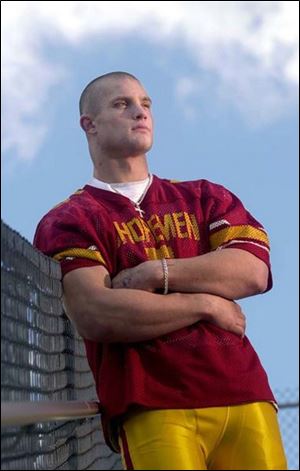 Mike D'Andrea
Mike D'Andrea was rated the top linebacker in the country by several publications coming out of Avon Lake High School in suburban Cleveland three years ago.
He's still trying to live up to that promise in his junior season at Ohio State.
"It was a little difficult here for me the first two years,'' D'Andrea said. "There were some struggles, for sure.''
He played just 31 minutes as a freshman and was only a part-time player last season before missing the final three games with a separated shoulder, an injury that kept him out of spring drills.
But D'Andrea (6-3, 250) had a strong preseason camp and beat out Anthony Schlegel, a heralded transfer from Air Force, to become the Buckeyes' starting middle linebacker. Another challenger, Indiana transfer, John Kerr, was suspended for the entire preseason and the first two games for violating team rules.
D'Andrea had four tackles in his debut against Cincinnati, a 27-6 OSU victory, and contributed five stops and a sack in Saturday's 24-21 win over Marshall. He also has four tackles for loss.
"It's always good to have competition at any position,'' he said. "It makes you focus on what you need to do better, and it makes the team stronger.''
In a defensive system that requires the man in the middle to rotate from stand-up rush end to rover in nickel and dime packages, D'Andrea's versatility has proven valuable.
Mike D'Andrea, right, celebrates with Ashton Youboty (26) and Bobby Carpenter after tackling Marshall quarterback Stan Hill.
"Getting on the field is what matters, whatever they want me to do,'' he said. "I haven't done a whole lot since I've been here, so I just want to go out there and make something happen.''
D'Andrea, who entered this season with just 31 career tackles, has impressed coach Jim Tressel with his preparation as much as his performance. He has become a regular in the film room, often spending five or six hours there a week studying the upcoming opponent, which this week happens to be North Carolina State.
"I'm telling you, he's in [the film room] more than our coaches, and our coaches are in there a long time,'' Tressel said. "There's not a moment when he's just sitting around.''
The improvement of D'Andrea, along with the additions of Schlegel and Kerr, and the potential of Bobby Carpenter and A.J. Hawk, gives the Buckeyes one of the top linebacking corps in the Big Ten. "I'm not too into talking about potential,'' D'Andrea said. "In my mind, you haven't done anything until you have done it. We've had two good games and now we need to improve on it.''
TAILBACK TUTOR: Sophomore Booker Stanley used to be one of the youngsters in Wisconsin's backfield, but he's had to grow up in a hurry because of how quickly things have changed at tailback for the Badgers.
Standout Anthony Davis injured his right eye in the opener and will be out at least two more games. Davis' backup, Dwayne Smith, is no longer with the team because of a heart condition discovered during a training camp physical.
That left Stanley, who had three 100-yard games last year when Davis and Smith were hurt, to make his first start Saturday in an 18-3 victory over Nevada-Las Vegas. He finished with 49 yards rushing and 36 yards receiving.
Stanley's backups were two freshmen - Chris Pressley and Jamil Walker.
"I feel like I need to take on more of a role of leading by example to help out the younger guys,'' he said.
Walker gained a team-high 88 yards on 16 carries in his debut, averaging 5.5 yards per attempt.
"I like the sound of me, Booker and Chris as a 1-2-3 punch,'' Walker said. "We all can do certain things, and we use each other for certain situations.''
TD TAYLOR: Senior Taylor Stubblefield, Purdue's leading receiver the last three years, entered this season with 236 catches for 2,534 yards, but only five touchdowns.
He's already tied his career TD total in the first two games.
Stubblefield, who almost certainly will become the Big Ten's career leader in catches, caught five passes for 121 yards and two touchdowns in the Boilermakers' 51-0 season-opening rout of Syracuse. He added five more receptions for 88 yards and three scores in a 59-7 win over Ball State Saturday.
That adds up to 10 catches for 209 yards and five TDs for Stubblefield. "We were hoping he'd find the end zone a little bit more this year, and he has,'' coach Joe Tiller said.
HOT HOOSIERS: Indiana, which won only two games last season, is off to its first 2-0 start in eight years.
The Hoosiers opened with a 41-10 rout of Central Michigan, then upset No. 24 Oregon 30-24 Saturday. It was their first win over a ranked opponent since 2001, and snapped a 13-game road losing streak.
"You practice year-round and this makes it all worth it,'' said quarterback Matt LoVecchio, a transfer from Notre Dame.
Indiana has four remaining ranked teams on its schedule, and all are Big Ten foes - Michigan, Ohio State, Minnesota and Purdue.
Contact Ron Musselman at:
mussel@theblade.com
or 419-724-6474.