Ohio State's Decker getting stronger
Sophomore tackle blends well with seniors
10/24/2013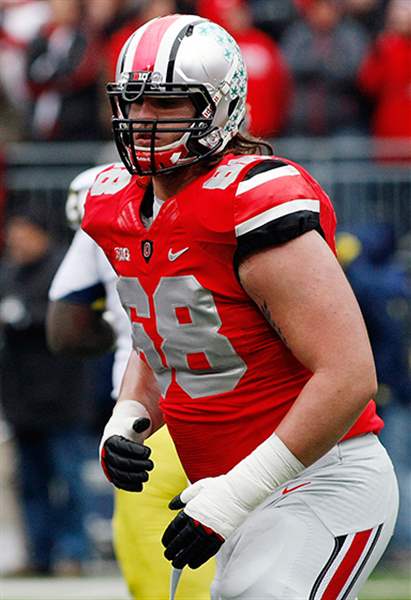 Ohio State sophomore Taylor Decker is a 6-foot-7 tackle that has started all seven contests.
COLUMBUS DISPATCH/BROOKE LAVALLEY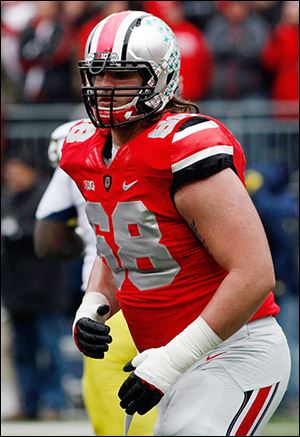 Ohio State sophomore Taylor Decker is a 6-foot-7 tackle that has started all seven contests.
COLUMBUS — Taylor Decker was furious at himself.
Decker.
In his first start at Ohio State, the sophomore right tackle had hoped to banish any doubts he was a worthy final piece of an established offensive line, only to raise them tenfold. Buffalo's star linebacker, Khalil Mack, exploited the 19-year-old time and again and the Buckeyes allowed four sacks in the season-opening win.
"It was a tough pill to swallow," Decker said.
Since then, though, you probably have not heard Decker's name much — and that is fine by him.
As the fourth-ranked Buckeyes (7-0, 3-0 Big Ten) prepare for Saturday night's home brush with Penn State (4-2, 1-1), one of the nation's best offensive fronts has evolved from four seniors and the new guy into what line coach Ed Warinner calls a "very good fivesome."
With the 6-foot-7, 315-pound Decker playing every meaningful snap, the line has cleared the way for a rushing offense that ranks seventh among BCS schools (279.6 yards per game) and stonewalled opposing QB-eaters. The Buckeyes have allowed only six sacks since the opener.
"The first game, I knew that wasn't me," Decker said. "That's not how I'd been playing and had performed in camp. ... But the coaches kept their trust in me, kept coaching me hard, and my teammates picked me up. I feel like because of that I've been able to improve."
In fairness, Decker was navigating a hard-to-win situation.
A year ago, the starting line was close off the field — Mondays meant wings night at Columbus restaurant Rooster's — and developed into a surprise strength on Saturdays. Coach Urban Meyer labeled the returning group of left tackle and St. John's Jesuit graduate Jack Mewhort, center Corey Linsley, and guards Andrew Norwell and Marcus Hall the "heart and soul" of the program.
Decker would fill the only vacancy, winning a preseason battle with Chase Farris to replace Reid Fragel — a seventh-round selection by the Cincinnati Bengals. And his first test just happened to be the biggest. Mack is now widely projected as a top-15 pick in next spring's NFL draft.
Sensing Decker was down afterward, Warinner shelved the fire and brimstone in favor of encouragement.
"If I don't have confidence in you, they don't have confidence in themselves," Warinner said. "The approach you use is the reason you're starting at Ohio State is because you're one of the best offensive linemen around and you continue to preach that to them, It's not, wow, you let us down. You disappointed us. What are you doing? It wasn't 20 bad plays in the game, it was three. But three bad plays for a corner or three bad plays for a tackle, everybody knows about it."
He added: "I didn't have any doubt that at some point he would turn the corner and he did the next game and played very solid. It's continued to just get better and better, and a lot of that is just confidence."
Now, seven weeks into the season, the line is in lockstep. Meyer calls the motley crew of good-humored characters not only the strength of the team but "my favorite players on the team."
That includes Decker, whose beard and shoulder-length hair bears resemblance to the cast of Duck Dynasty, his favorite TV show. After an initiation that included the usual ribbing — "Baby Huey" is one nickname — and an early humbling, he is officially part of the old boys club.
"The other [linemen] have had good careers, they've established themselves, and they deserve the respect that comes along for that," Decker said. "I do feel I've improved and gotten closer to them, but it's like a little brother relationship, and I wouldn't have it any other way."
Contact David Briggs at: dbriggs@theblade.com, 419-724-6084 or on Twitter @DBriggsBlade.