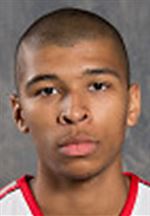 Loving
COLUMBUS — As Marc Loving sank deeper and deeper into the most frustrating stretch of his basketball life, the Ohio State forward did not feel the weight of the world on his back.
No, just a 300-pound gorilla.
"A silverback," Loving said, smiling.
That's why his late burst in the 24th-ranked Buckeyes' 48-39 win at Illinois last weekend was such a relief — and could be just the kick-start OSU (20-6, 7-6 Big Ten) and its previously missing freshman threat need in a stretch run that continues with a visit Wednesday from Northwestern.
Before Loving went on his own 8-0 run in Champaign, the St. John's Jesuit graduate found himself in a maddening slump. He had missed his last 13 shots and was without a field goal since Jan. 20 at Nebraska, his promising start to the Big Ten season fading by the game. In the Buckeyes' loss to Michigan last week, he played a season-low two minutes.
OSU coach Thad Matta watched as Loving doubled down on his time in the gym, trying hard to maintain a confident front. The freshman just needed some sort of spark.
"I've witnessed his work ethic, his commitment to the game, his commitment to this team, his commitment to this university," Matta said Monday.
Then, suddenly, it poured. With Ohio State locked in a dark-ages grinder midway through the second half Saturday, Loving hit a baseline jumper to put the Buckeyes ahead 36-29.
"When that ball went through for him, I was so excited," Matta said. "I told him in practice it was going to happen. You could see 1,000 pounds lifted off of him."
Loving followed with a layup on the next possession, then with two free throws and another jumper. By the time he was finished, Ohio State had iced its third straight road win — and last season's Ohio Mr. Basketball winner was back prominently in the Buckeyes' plans this year. Matta said he would have given Loving the game ball if he had tracked it down.
"It felt good to see the ball go in for once," Loving said. "I feel like from here on out, that will help me play with a little more confidence."
His revival could also lift a team in need of baskets from wherever it can get them. With no dominant scorer and an offense ranked 205th nationally (70.5 points per game), Matta said this year's Buckeyes are at their best with "all hands on deck."
At a time of year when he has traditionally ignored the bench, Matta instead rode it Saturday. Loving and backups Amedeo Della Valle and Trey McDonald all played at least nine of the final 12 minutes, with Loving the linchpin.
"We've got five games left in [the regular season] and we need to see that from him," senior guard Aaron Craft said. "He can't be inconsistent down the stretch. He doesn't need to go on an 8-0 run by himself in games to come, but to continue to be aggressive and look for his shot."
Loving, who is averaging 5.3 points and 2.0 rebounds, vows to do just that.
"I feel like I can provide that spark off the bench," he said.
HAYES HONORED: Wisconsin forward Nigel Hayes continues to clean up the Big Ten's freshman of the week honors, capturing the award for the fourth time this season.
The Whitmer graduate helped lead the 16th-ranked Badgers to a pair of wins, with 15 points, four rebounds, and two steals against Minnesota and four points and two steals in Sunday's upset at then-No. 15 Michigan.
In Big Ten play, Hayes, a frontrunner for the league's freshman of the year award, is second among all players with a 56.3 shooting percentage and second among freshmen with 10.4 points per game.
Contact David Briggs at: dbriggs@theblade.com, 419-724-6084 or on Twitter @DBriggsBlade.
Guidelines: Please keep your comments smart and civil. Don't attack other readers personally, and keep your language decent. Comments that violate these standards, or our privacy statement or visitor's agreement, are subject to being removed and commenters are subject to being banned. To post comments, you must be a registered user on toledoblade.com. To find out more, please visit the FAQ.