Della Valle sparks OSU comeback for 71-67 win over Nebraska
Buckeyes rally from 18 down to beat Cornhuskers
3/15/2014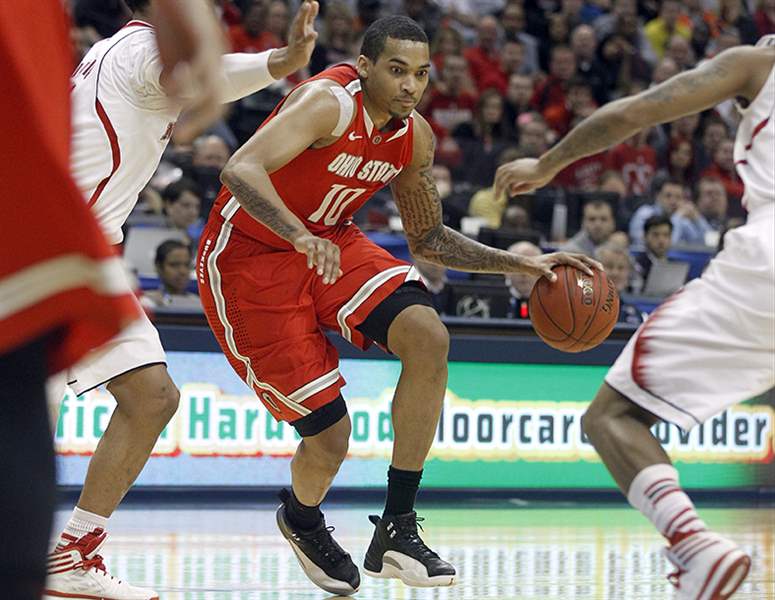 LaQuinton Ross, who led Ohio State with 26 points and 13 rebounds, drives against Nebraska in the Big Ten quarterfinals.
ASSOCIATED PRESS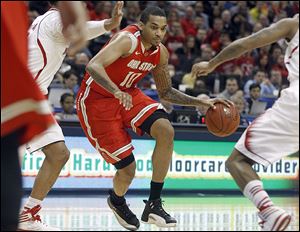 LaQuinton Ross, who led Ohio State with 26 points and 13 rebounds, drives against Nebraska in the Big Ten quarterfinals.
INDIANAPOLIS — How stunning was Ohio State's 71-67 win over Nebraska in Friday's Big Ten basketball tournament quarterfinals?
■ Before the No. 24 Buckeyes rallied from an 18-point second-half deficit, coach Thad Matta looked at his disheveled team and thought, "How far is it back to Columbus?"
■ Bo Ryan made a cameo in the Buckeyes' locker room. With one player playfully asking, "Where is security?" the Wisconsin coach gave the team a thumbs up and told Matta, "That was one hell of a comeback." Matta smiled. He fist-bumped Ryan and replied, "It's hard, isn't it?"
■ It could have changed last week's vote for Ohio State's student government president. Buckeyes sophomore guard Amedeo Della Valle did not win as a write-in candidate with a platform that included more snow days and an In-N-Out Burger on campus, theorizing too many students spelled his name wrong. But that was before the little-used Italian played the game of his career, scoring 11 of his 12 points in the second half.
"I definitely would have won after this game," cracked Della Valle, who received 479 write-in votes.
A team at its best when pushed to desperation blistered into a semifinal showdown against Michigan with the biggest comeback in Big Ten tournament history.
"I told our guys at halftime, 'Look, with the nine turnovers we had, why don't we just go out there and give them the ball nine times and let them try to score,'" Matta said. "And they took me literally, so we were down 18 points. But I'll tell you what, I'm very proud of these guys and that effort they gave. We fought, we clawed, and we found a way."
It was rarely pretty. All of the Buckeyes' season-long flaws were laid bare Friday.
They made only 4 of 18 3-pointers, had little inside presence, missed 11 of their first 18 free throws, and enigmatic star LaQuinton Ross mystified. Deep into a 36-10 Nebraska run that put OSU behind by 18 points with less than 14 minutes left, the frustrated Ross drew a technical foul for shoving a Cornhuskers player.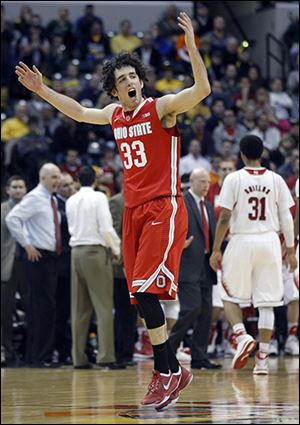 Ohio State's Amedeo Della Valle scored 11 of his 12 points in the second half.
Yet none of that mattered. Ross continued his ownership of March with 26 points and 13 rebounds, the Buckeyes flipped on their full-court press, and, with one frenetic play after another, the tension built.
"We knew there were no 20-point baskets," guard Shannon Scott said. "We just had to get stops."
Ohio State (25-8) cut the deficit to nine points with 8:30 remaining, then two on a dunk by Sam Thompson with 4:39 left. After Walter Pitchford answered with a 3 to push Nebraska ahead 61-56, OSU began its final chase. Della Valle hit a 3 to bring the Buckeyes within two, Ross hit a pair of free throws to tie the game, and another pair to put them in front 65-53 with 58 seconds left.
Aaron Craft then put OSU up four with a driving layup and — aided by Della Valle's four straight free throws — the stunning rally was soon complete.
Ohio State outscored Nebraska 41-19 and forced seven turnovers over the final 13:33. Terran Petteway led Nebraska with 20 points.
"We found ways to pick up the defensive intensity," Matta said. "Everyone's going to point to the full-court press, but our half-court defense was really good. If you look at the buckets Nebraska had to make, they were incredible plays. I kept telling our guys, 'If they keep making those, we're probably not going to win the game. But they can't keep making those plays.' "
As the buzzer sounded, Ross hurled the ball skyward, Della Valle hip-bumped a walk-on teammate, and the Buckeyes celebrated their biggest comeback in a year filled with them. Nebraska (19-12), still likely sitting on the right side of the NCAA tournament bubble after winning 11 of its last 14 Big Ten games, appeared at a loss.
"When you have a lead like that, you should be able to hold it, keep it and find a way to win, but unfortunately we weren't able to," Huskers coach Tim Miles said. "Credit them, but at the end of the day, I'm going to put this one on us and me and not finding a better way to attack their pressure."
Contact David Briggs at: dbriggs@theblade.com, 419-724-6084 or on Twitter @DBriggsBlade.