Inexperience on line a factor for OSU offense
3/29/2014
Ohio State offensive lineman Pat Elflein (65) runs drills during an NCAA college football practice earlier this month in Columbus.
ASSOCIATED PRESS
Ohio State offensive lineman Pat Elflein (65) runs drills during an NCAA college football practice earlier this month in Columbus.
COLUMBUS — Tom Herman felt for his colleague.
The Ohio State offensive coordinator playfully chided a crowd of reporters as they surrounded the man in charge of Ohio's most scrutinized public works project: reconstructing the Buckeyes' offensive line. The team had just finished its second practice of the spring — in shirts and shorts no less — and already Ed Warinner was being asked to appraise his new herd.
What was the line coach supposed to say? The boys bring their lunch pails to work and are getting better one day at a time?
"They're in underwear!" Herman said.
For now, the fall jury of the legion of Ohio State fans remains out.
The Buckeyes must replace four starters from an offensive line that turned three yards and a cloud of dust into an average of 7.15 yards and a storm of turf pellets on the highest-scoring team in program history. For as much as OSU will lose in running back Carlos Hyde, recall that former backup Jordan Hall, too, looked like a star behind that line.
St. John's Jesuit graduate Jack Mewhort, Corey Linsley, Marcus Hall, and Andrew Norwell started every regular-season game for two straight years. Now, their jobs fall to a motley cast that includes a 4.0 student (junior center Jacoby Boren), the strongest player strength coach Mickey Marotti has ever trained (redshirt freshman center Billy Price), and a defensive tackle who switched sides of the line for his final season (senior guard Joel Hale). Junior Taylor Decker, who has shifted from right to left tackle, is the unit's only returning starter.
"We definitely have some big shoes to fill, but we're capable of it," sophomore guard Pat Elflein said. "We have good chemistry, a good culture on our offensive line. Some guys have to step up big time, and we definitely have the talent to do that."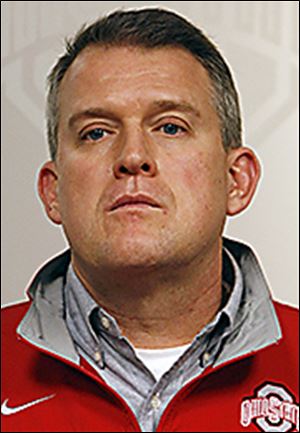 Warinner
So far, Decker and Elflein are the only two declared starters. Boren, junior guard Antonio Underwood, and senior right tackle Darryl Baldwin — another former defensive lineman — have filled out the first team in practice, though the competition remains open.
"We'll let everybody have their shot," Warinner said. "We don't have to know who the starting O-line is until about 10 days before the first game."
No one expects this group to match the line's production from last year.
Coach Urban Meyer acknowledged the Buckeyes will need to tweak their offense to offset the inexperience up front.
"We're going to have to lean on some perimeter ways of getting first downs versus last year when you rush for 300-plus yards a game," he said. "It was because that offensive line was so good. We have other weapons, and [the offense] will have a different taste to it than this year.
Still, Ohio State's coaches are confident the drop-off won't be steep. This is not the down-to-the-studs rebuild of body and mind from two years ago. This is about polishing a group that spent the past two seasons absorbing how an elite line is built.
Herman called the offensive line a "big concern."
"But I'd be a lot more concerned if I didn't believe the talent was there and I didn't believe in Ed Warinner," he said. "This group of O-linemen, whether we like to say it or not, is much farther ahead than the group from our first spring. You want to talk about some dudes that needed some molding. Ed Warinner took the weakness of the offense and within 24 months turned it into the absolute, hands-down, not-even-close strength and backbone of the offense. Last I checked, Ed Warinner is still here."
How confident is Warinner?
"Pretty confident," he said. "Everything you want to see at this point, we're seeing: a great work ethic, tough guys who are very well conditioned, guys who want to learn, guys who come with energy to practice. The only thing they lack is experience."
Contact David Briggs at: dbriggs@theblade.com, 419-724-6084 or on Twitter @DBriggsBlade.