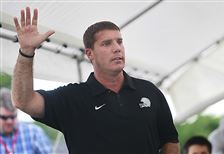 Chris Ash, Ohio State's new defensive co-coordinator, tells his audience at Perrysburg Junior High to embrace one of his 10 points and '‍live it.'
THE BLADE/ISAAC HALE
Enlarge | Buy This Image
New Ohio State University defensive coach Chris Ash recalled a time when his car broke down on the Turnpike just outside of Toledo on his way to his first gig as a college football coach.
The early setback became part of Ash's professional journey, one that he shared with young football players in Perrysburg on Tuesday. Ash, named Ohio State's co-defensive coordinator and safeties coach in early January, was the keynote speaker at the Northwest Ohio Regional All-Star Football event.
In 1997, Ash was on his way to serve as a volunteer coach at Princeton when his car became disabled on I-80.
"There were no cell phones in those days," he said. "I had no money. No nothing. Finally a cop pulled over. He knocked on the window. He called a tow truck and it towed me to somewhere in Toledo. I made a collect call to my dad back in Iowa, and somehow he got it paid to get to Princeton."
Ash, a native of Ottumwa, Iowa, was a graduate assistant at Drake University where he had played in college when someone at Princeton called him offering him a coaching job "to work for nothing."
"I said, 'I'm you guy,' " Ash said. "My car barely ran and needed new tires. But I took a risk and that risk worked out for me. If you want to make things happen in your life, be willing to take a risk."
The experience became part of a series of life lessons that he shared with the 73 players participating in the all-star event on Friday at Steinecker Stadium. Ash told the players to take one of the 10 points he offered, write down just one, and "live it."
"I was in your shoes 23 years ago," he said. "These are the things I learned on my journey."
Ash has coached at the collegiate level for 17 years, including 13 years in the defensive secondary and with four years as a coordinator. The 41-year-old was the defensive coordinator and secondary coach at Arkansas last season and had the same responsibilities at Wisconsin in 2011 and 2012.
Ash's first piece of advice to the players was to find a passion, whether it's sports, music, or cooking.
"If you do that, you will never work a day in your life," he said. "I had a passion for football, and I studied the game and worked my tail off."
While Ash urged them to have a dream, he said, dreaming isn't enough. He said it takes "early mornings" and "late nights" of working. At Ohio State the staff works from 5:30 a.m. to 11 p.m. during the season.
"There is no substitute for hard work," he said. "You have to be willing to sacrifice. You have to improve yourself everyday."
Ash also told his audience to network to not burn bridges.
"It could help you find a job down the road," he said. "You will come across people you don't like. But love your neighbor and it will come back to help you."
Ash's speech is part of the week-long event that features recent players who are recent high school graduates that will play in the 24th annual Northwest Ohio Regional All-Star Football game. Guest speakers ihave included Ohio State great Archie Griffin and Notre Dame coach Gerry Faust.
Former Perrysburg defensive back Matt Mesker said Ash's work ethic stuck out.
"It's impressive how hard he works. How he starts from the crack of dawn and goes to midnight every day," Mesker said. "That was impressive how hard you have to work to get where you want to be in life."
Clay grad Josh Pennington, a quarterback, said Ash's willingness to take a risk stood out to him.
"He's not a guy to sit back. He's right," said Pennington, who will walk-on at the University of Findlay. "You have to take a risk. Sometimes you'll make it, sometimes you won't. You have to take a risk to give yourself a shot."
Ex-longtime Rossford coach Tom Ferguson, who again will coach the Black team, said each speaker offers a special message.
"Most of it includes personal things that they had to endure in life and how they overcame obstacles to be where they are today," he said. "The kids buy into that, and they take in what these coaches have to say."
After the speech, Ash said his new duties will be to work hand-in-hand with co-defensive coordinator Luke Fickell.
"It's been a great relationship so far. We're building a defensive package," Ash said. "My job is to help us be the best we can be."
Ash said he will bring in an aggressive philosophy and that he expects his secondary to overcome the loss of top cornerback Bradley Roby to the NFL.
"I like our potential," he said. "Most of the young defensive backs are going to take a huge leap. I know there is a lot of concern out there about the DBs. But there are some really talented players that will replace the guys that left. They are poised and ready to explode."
Ash ended by telling the players to learn from failure and to not make excuses.
"Everyone has an opportunity to do something great," he said. "Success is a choice."
Contact Mark Monroe at: mmonroe@theblade.com, 419-724-6354 or on Twitter @MonroeBlade.
Guidelines: Please keep your comments smart and civil. Don't attack other readers personally, and keep your language decent. Comments that violate these standards, or our privacy statement or visitor's agreement, are subject to being removed and commenters are subject to being banned. To post comments, you must be a registered user on toledoblade.com. To find out more, please visit the FAQ.