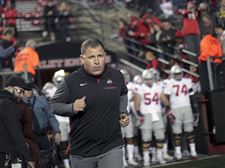 Ohio State defensive coordinator Greg Schiano had a deal in place to become Tennessee's next head coach, but Tennessee backed out of a memorandum of understanding.
ASSOCIATED PRESS Enlarge
INDIANAPOLIS – Ohio State defensive coordinator Greg Schiano said after the Big Ten championship game Saturday that he will speak publicly about his Tennessee situation, just not yet.
The Buckeyes defeated previously unbeaten Wisconsin 27-21 to win the Big Ten title with Schiano calling the defense. Earlier in the week, however, Schiano had an agreement in place to become the new coach at Tennessee that fell apart at the last minute.
When reports surfaced the Tennessee had chosen Schiano, Volunteers fans, former players, and even elected officials came out against the decision. The backlash was so sudden and so unanimous that Tennessee backed out of a memorandum of understanding with Schiano.
In the locker room after OSU's win against Wisconsin, Schiano answered a question about Tennessee by saying he eventually will tell his side of the story, but felt the postgame was not the appropriate time to do so.
"I'm going to address that down the road somewhere," Schiano said after the game. "Tonight, this is all about these kids and what they've done and this football team. I've been very blessed and fortunate to be a part of Ohio State, and I don't take that lightly."
Tennessee fired Butch Jones after a season during which it was the only team in the Southeastern Conference that did not win a league game.
The Volunteers still do not have a coach. The program has since fired director of athletics John Currie, who orchestrated the failed Schiano deal, then began to negotiate with Washington State coach Mike Leach.
Tennessee hired former coach Phillip Fulmer to lead its department of athletics in Currie's place.
Contact Nicholas Piotrowicz at npiotrowicz@theblade.com, 419-724-6110 or on Twitter @NickPiotrowicz
Guidelines: Please keep your comments smart and civil. Don't attack other readers personally, and keep your language decent. Comments that violate these standards, or our privacy statement or visitor's agreement, are subject to being removed and commenters are subject to being banned. To post comments, you must be a registered user on toledoblade.com. To find out more, please visit the FAQ.