A deeper look at the Perrysburg riverfront renovation plan
6/26/2013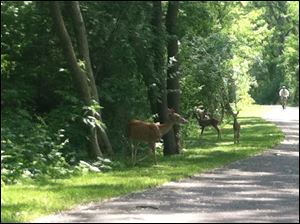 Deer along the trail along the Maumee River in Perrysburg.
Last week I walked on phase one of the newly proposed Perrysburg riverfront renovations, an asphalt path from the Orleans Park to the bridge connecting Perrysburg and Maumee.
That walk included so much of what can be great out of the basics elements in the $26 million in planned improvements along the river. The walk would connect residents with the river and beautiful nature in the area. While I was strolling, I was stopped by a doe and her two fawns who froze and stared at me, scared. We spent a few moments looking at each other before a biker came up slowly and the deer took off into the wilderness.
It was awesome. But I have some concerns about the overall project.