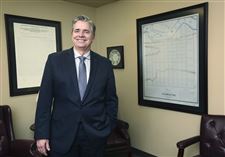 Perrysburg Mayor Michael Olmstead stands next to a framed original plat of Perrysburg from 1816 in the municipal building. New information has come to light about its history.
THE BLADE/KATIE RAUSCH
Enlarge | Buy This Image
While Perrysburg is known for loving its history, residents may not know its story as well as they think they do.
Recent revelations from a pair of retired engineers — who will unveil their findings in an upcoming program — challenge some of the long-held beliefs about Perrysburg's origins, namely those dealing with who platted the community.
And their discoveries may create some confusion, debate, and unrest as residents prepare to celebrate Perrysburg's 200th birthday this year.
The journey for Gary Franks and Archie Call began more than a year ago when Historic Perrysburg board member Becky Visser was researching the history of the community's original plat.
"It had always been said it was laid out by Pierre L'Enfant," Ms. Visser said.
Mr. L'Enfant was an architect, famous for his design of Washington.
"I read everything and I could not find documentation that he was here," Ms. Visser said. "That's when I called Gary and said, 'I can't find him, I can't put him here in Wood County.' "
She put Mr. Franks and Mr. Call, who she knew were knowledgeable about local history, on the case. The two new friends spent a year researching local, state, and national archives to uncover history about Perrysburg.
First, Mr. Call discovered popular lore about the city's designer was incorrect. Alexander Bourne, not Pierre L'Enfant, originally surveyed and platted Perrysburg. He was also the first person to create a detailed map of Ohio, Mr. Call discovered. Mr. Bourne was a cartographer who worked with deputy surveyors Joseph Wampler and William Brookfield of the General Land Office in August, 1816, to plat Perrysburg.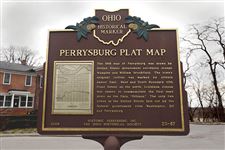 An Ohio Historical Marker at Hood Park apparently in-correctly says Perrysburg is one of two cities — the other being Washington — platted by the federal government.
THE BLADE/KATIE RAUSCH
Enlarge | Buy This Image
"He was the best mapmaker in America, and he gets no credit for Perrysburg," Mr. Call said. "Perrysburg history always talks about founder Amos Spafford; they don't know about [Alexander Bourne]."
He also credited Mr. Bourne for not worrying about the profits developers stood to make, mapping out wider lot sizes in Perrysburg than Maumee's parcels.
Mr. Franks' portion of the upcoming public program, which is titled The Survey and Founding of Perrysburg and is scheduled for 7 p.m. Wednesday at Fort Meigs, will explore the surveying of Perrysburg.
Though he has searched engineers' offices throughout Ohio, as well as records of many historical societiesand national archives, he can't find the surveying notes for Perrysburg. Using personal letters and other information he gleaned from the National Archives, Mr. Franks has come up with a theory. He said in 1835 the original plat needed to be resurveyed after monuments from the original survey couldn't be found.
Another myth near and dear to residents being put under a microscope is that Perrysburg is one of only two cities platted by the federal government. This has been shared often enough over the years to become fact to many.
"This is a government action Perrysburg proudly shares with the creation of Washington, D.C.," C. Robert Boyd wrote in his 2005 book Perrysburg: Historic Architecture. An Ohio Historical Society marker placed at Hood Park in 2008 also proudly restates it.
Mr. Call and Mr. Franks, however, read letters of the government surveyors and discovered that along with Perrysburg, the men were assigned to plat Croghansville, which is now Fremont, after Perrysburg. That led the researchers to Fremont to discover it was also platted by the federal government, adding to the list of communities with the designation.
Mr. Franks is so passionate about clearing up this myth that Perrysburg was one of only two cities platted by the federal government that he has commented on incorrect Internet blogs trying to set them straight.
Local historians said the discovery was news to them. Perrysburg Mayor Michael Olmstead admitted he's repeated the myth about 500 times.
"There are a number of local historians, besides me, that subscribe to these myths," Mr. Franks said. "They've been told by so-and-so this information, but documentation doesn't support it."
Still, Way Public Library's Richard Baranowski is skeptical about the new information. He has done his own research and still believes that Washington and Perrysburg are the only two laid out by the federal government.
Perrysburg's bicentennial events will start with a birthday party for the city at Way Public Library on April 27. The celebration will continue with a "200 Year Grand Celebration" at the Municipal Building on April 30. On July 1, there will be more events downtown, and on July 2 there will be a Bicentennial Rotary Parade featuring the Ohio State University Alumni Marching Band.
Perrysburg officials have been planning the celebrations for about 18 months. Mayor Olmstead said the organizers understand the importance of such an event in a community with such deep pride in its history.
"Two hundred doesn't come around often. We want to have a celebration that will be remembered by generations to come," he said. "The fireworks will be awesome, the best we've seen. And rightly so for 200 years."
Although Mayor Olmstead clung to the idea that Perrysburg was one of only two communities platted by the federal government, he says the new research doesn't change anything crucial about Perrysburg. Family life, the riverfront, and downtown still make the area special, he said.
He added that the fact Perrysburg is named for Commodore Oliver Hazard Perry humanizes the city's history. He credited that as one reason people love digging into research in the community.
Ms. Visser said while some local historians still cling to myths about Perrysburg, others have known all along about Alexander Bourne and his role in the platting of the city. She said it ultimately doesn't matter whether the truth about Perrysburg's history is universally acknowledged.
"I don't care [what others think], it's the truth," Mr. Call said. "We have so much proof it's pathetic."
"What's been lacking is the hard research, so Arch and I spent 18 months or so doing really hard research on that," Mr. Franks said.
It has helped open the eyes of the local history buffs. Local historian Judy Justus said the research has helped bring Alexander Bourne "back to life." She said it was news to her that Perrysburg wasn't the only other city platted by the federal government.
And that still means Perrysburg is special, she said.
"We didn't know until those boys went to Washington," she said. "We don't know how many they platted, but we were the second one ever done."
Contact Matt Thompson at: mthompson@theblade.com, 419-356-8786, or on Twitter at @mthompson25.
Guidelines: Please keep your comments smart and civil. Don't attack other readers personally, and keep your language decent. Comments that violate these standards, or our privacy statement or visitor's agreement, are subject to being removed and commenters are subject to being banned. To post comments, you must be a registered user on toledoblade.com. To find out more, please visit the FAQ.