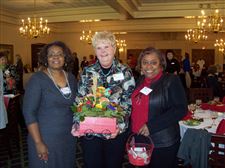 Red Wagon chairmen, from left, Sandra Goodwin, Kathy Pancone, Karen Jarrett.
The 10th annual Red Wagon Layette Shower presented by the Christ Child Society Oct. 9 at Sylvania Country Club raised nearly $4,000 and collected almost 10,000 diapers that filled nearly four SUVs. They will be used for the 800 layettes to be distributed. This is just one of the many programs operated by the society for the welfare and care of children in Toledo. Other programs include parenting, reading, and clothing.
Ladies dined on a gourmet lunch served at tables centered with the signature red wagons in memory of founder Mary Virginia Merrick.
Thanks go to event chairmen Sandra Goodwin, Karen Jarrett, and Kathy Pancone, assisted by the class of 2011.
Guidelines: Please keep your comments smart and civil. Don't attack other readers personally, and keep your language decent. Comments that violate these standards, or our privacy statement or visitor's agreement, are subject to being removed and commenters are subject to being banned. To post comments, you must be a registered user on toledoblade.com. To find out more, please visit the FAQ.