COMMENTARY
Spain hams it up with pig population
8/27/2018
For perhaps the first time, Spain has more pigs than people.
The Blade/Amy E. Voigt
Buy This Image
Last week was the annual town fiesta in Moratinos, the tiny village in Northern Spain that I call home. Instead of the usual 20 people thronging our two streets, there were over 70, and at least half of them had cars. It seemed for a while I lived in a Kroger parking lot.
For perhaps the first time, Spain has more pigs than people.
In the gaps in the dancing, drinking, and general revelry, the whole gang of us sat down together in the shade of tall ash trees for a picnic. The first of these consisted of lentils, grown in our fields and stewed with local sausage made from local pigs. The second was a huge paella — a rice dish made with various meats and sea creatures. In Spain, paella is traditionally prepared by men, much the same as outdoor barbecues in the States. The meat in paellas is traditionally pork, chicken, and rabbit. The seafood is clams, mussels, squid, and shrimp. All this washed down with red wine made by a man named Hilario, and best described as "rough." We wound it up with slices of watermelon. Sweet.
One reason pork is so prominent on Spanish menus is because Spain has, for the first time, more pigs than people.
According to new figures, Spain has 50 million pigs, and only 46.5 million Spanish people. In the last 15 years the porcine population has boomed by 10 million. There are a couple of reasons for this: Pigs have bigger families than people these days; a litter of piglets numbers about 10 or 12. The second is that pigs — or, more accurately, pork products — are more profitable than people, in many respects. China, for example, has developed an insatiable taste for Spanish "Jamon Iberico," or Iberian ham. This stuff can be extraordinarily expensive, and the Chinese just can't get enough if it.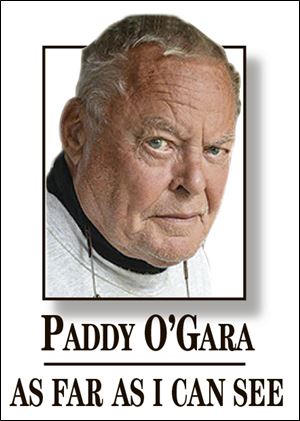 Paddy O'Gara
The only downside is what all these porkers do to the environment. Livestock production is Spain's fourth-largest generator of greenhouse gas, and the soaring swine population is a key factor.
Still, in most of Spain, the presence of the pig population is not obvious. Pigs don't hang out in bars playing dominos and shouting at one another about Catalan independence and Real Madrid. Pigs prefer to mooch in barns or in the woods, eating acorns and scratching their backs on trees. If you want to see them, you have to go looking.
Only one Moratinos family raises pigs for slaughter. This is not pig country; sheep have always been the beast of choice, but even their numbers are falling. This is a shame. Pigs are useful, smart, and intelligent, and I am told they are surprisingly good company.
As Winston Churchill once put it, "A dog looks up to you, a cat looks down on you. But a pig treats you as an equal."
Which is more than I can say about a lot of people I know.
Patrick O'Gara, a former Blade editor, was a journalist all his working life. He now lives in Northern Spain with five dogs, two cats and eight hens, and a tolerant American wife. Contact him at:pogara@theblade.com.