COMMENTARY
McCain's funeral about the man who wasn't there
9/10/2018
Meghan McCain speaks at a memorial service for her father, Sen. John McCain, at Washington National Cathedral.
ASSOCIATED PRESS
The global view from my fly-blown adobe hovel in Northern Spain has proved even more bizarre than usual recently, and that takes some doing.
In the UK, "Brexit" shambles drunkenly from chaos to disaster and back again. Actually, there's nothing overly bizarre about that, since Brexit has never done anything else.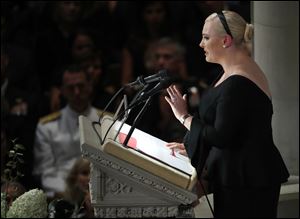 Meghan McCain speaks at a memorial service for her father, Sen. John McCain, at Washington National Cathedral.
In the States, however, the death and funeral of John McCain seemed to me bizarre indeed. An objective observer might ask: Why was Senator McCain accorded the status in death of an ex-president?
Is this customary? Can we expect similar reverential treatment for, say, Senator Bob Dole, when he finally heads for his eternal reward? If not, why not?
The subtext here is simple: John McCain was accorded semideification not for his unquestioned courage and heroism as a prisoner in North Vietnam, nor for his perspicasity in selecting Sarah Palin as his presidential running mate.
Last week's Pomp and Circumstance and Sound and Fury weren't about the Hero Who Had Passed On at all. They were about The Man Who Wasn't There, the elephant glaringly absent from the room, the dog who didn't bark in the night. In short, Donald Trump.
While the rest of America wept behind the flag-draped coffin, America's skulking and sulking pariah of politics was excluded, with no other recourse but to twitter peevish gibberish from a sand trap on the back nine.
Skeptics might nominate Aretha Franklin as a more suitable nominee for muffled drums, eulogies, and flags at half-mast. She enriched the lives of millions. Did Senator McCain?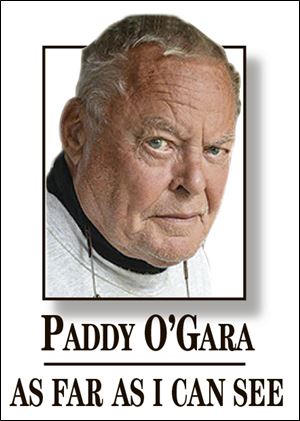 Paddy O'Gara
But no, you're right, life doesn't work like that. And it's probably not a fair analogy.
McCain had his limitations, but was apparently the only Republican in Congress with a spine. That alone is worth shedding a tear or two over.
In his Washington eulogy, ex-president Obama was careful not to name The Nameless One, yet somehow still managed to excoriate the wretched fellow.
The late Senator's daughter did likewise, declaring, "The America of John McCain has no need to be made great again, because America was always great." As USA Today newspaper put it, "People in the room clapped, and social media erupted." (A social media eruption must be an awesome sight. Sadly, I managed to miss it.)
Trump critics did not name him, but they clearly used the solemnity of Senator McCain's demise as a bludgeon with which to smack him soundly around the noggin. It was intrinsically a shabby affair, but as Sarah Huckabee-Sanders, loyal performing monkey to The Nation's Organ Grinder, put it, " He ( President Trump) fights fire with fire.''
So, we'll inevitably see him twitter back as ever, matching insult with insult, injury with injury, imbecility with imbecility. And so it goes.
Moreover, to paraphrase the late Al Jolson, ''You ain't seen nothing yet, folks!''
Still and all, as long as the stock market booms, and the Rust Belt gleams once again like a newly minted nickel, so what does it matter if the President is an uncontested, unrepentant, semiliterate, yahoo? We knew that from the get-go. Nobody's perfect. That's the way he is.
Imperfect.
Unless, of course, this column is just more fake news.
Patrick O'Gara, a former Blade editor, was a journalist all his working life. He now lives in Northern Spain with five dogs, two cats and eight hens, and a tolerant American wife. Contact him at:pogara@theblade.com.