41.62073
-83.54516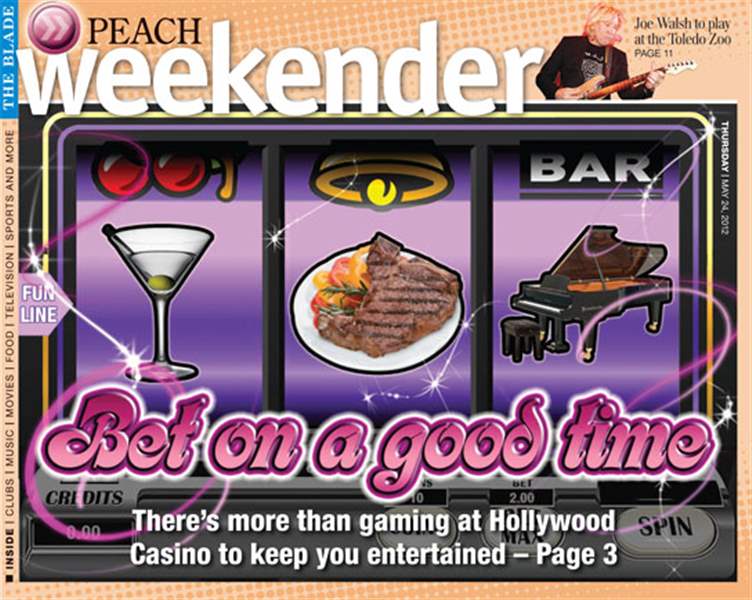 Hollywood Casino seeks to entertain even non-gamblers.
Workers fill a dessert case at the Epic Buffet inside the Hollywood Casino.
The Blade/Dave Zapotosky
Enlarge | Buy This Image
The soon-to-open Hollywood Casino features more than 2,000 slot machines and dozens and dozens of live poker, blackjack, roulette, and craps tables.
But there's plenty more to the $320 million complex than games on the casino floor.
Opening at 2 p.m. Tuesday, Hollywood Casino at 1968 Miami St. south of downtown Toledo on the Maumee River, will feature four restaurant options, including an upscale sports bar, and an entertainment and ultra lounge featuring daily live entertainment.
"We really want Hollywood Toledo to be a one-stop entertainment destination," said John McNamara, marketing manager for Hollywood Casino. "Whether you're a gambler or not, we've got something for you with seven nights a week of entertainment. We'll have four different restaurants [and] we anticipate a lot of people coming in just to dine at one of our great restaurants or just to have a drink and cocktail at Scene [sports bar]. You don't have to be a gambler to enjoy yourself here."
The four restaurants run the gamut in food and prices. And in keeping with the casino's theme, their names are inspired by the film industry.
Final Cut Steak & Seafood is Hollywood's "signature" restaurant, with dry-aged, hand-cut steaks and sustainable seafood flown in daily from the Atlantic, Gulf, and Pacific, along with an extensive wine selection. Final Cut will be open for dinner from 4 to 10 p.m. weekdays, and 4 to 10:30 p.m. weekends, with menu items ranging from $19 to $62.
Epic Buffet is a Las Vegas-style buffet serving lunch and dinner from 11 a.m. to 10 p.m. daily. The buffet features several food stations, including Italian, American, and Chinese cuisine, as well as a salad and dessert bar. Lunch is $15.99 and dinner is $21.99 per person.
David Garewal of Cleveland rolls the dice as staff members practice at the Hollywood Casino in Toledo during a recent media tour of the facility.
The Blade/Dave Zapotosky
Enlarge | Buy This Image
Take 2 Grill is an option for a quick bite, with a casual menu of hamburgers, Buffalo chicken wings, hot dogs, and chicken finger baskets. Take 2 Grill is also the only 24-hour food option at Hollywood Casino, and will serve breakfast sandwiches, Danish, and baked items daily.
Scene will feature nearly 25 different draft beers, a full bar, a casual menu with a range of prices from $10 to $28, and nearly 30 screens to keep up with the latest sports. Scene is open 11 a.m. until midnight daily.
"It's not just a slot parlor or a casino with a couple of fried food items thrown in to say you've got a restaurant. All of our food is made in-house from scratch, even down to our Take 2 Grill," McNamara said. "We know Toledo is a food town. You go out to any restaurant in town on Monday or Tuesday night and it's full. People here enjoy going out to eat and they enjoy entertainment, so there should be a large amount of people who come in here just for dining."
Hollywood Casino also will showcase live performances nightly at its H Lounge, which features a 60-foot-wide projector screen, as well as stage, and cocktail seating for 80.
The music will rotate from local and regional acoustic and small jazz acts at the beginning of the week and grow to full-size rock and country bands by the weekend. On Friday and Saturday nights, after the band performance, a disc jockey will take over until closing at 2:30 a.m. For its Tuesday opening, H Lounge will feature Fifty Amp Fuse at 2 p.m., Alizma at 4, Freddie James Project at 7, and DJ Kay Jay at 11:45.
"We think H Lounge is going to become one of the signature places in Toledo for entertainment," McNamara said. "Obviously because of the size of it we'll never be able to attract national acts, but we do have the ability to potentially do some outdoor concerts along the river front that could potentially have the ability to bring in some national acts for that. But that's down the road if we're able to work through some of the logistical things like parking."
For more information about the casino, or its restaurants and entertainment schedule, download the free Hollywood casino app available for iPhone and Android phones, or visit its Web site at hollywoodcasinotoledo.com or Facebook page at facebook.com/HollywoodToledo.
Contact Kirk Baird at kbaird@theblade.com or 419-724-6734.
Guidelines: Please keep your comments smart and civil. Don't attack other readers personally, and keep your language decent. Comments that violate these standards, or our privacy statement or visitor's agreement, are subject to being removed and commenters are subject to being banned. To post comments, you must be a registered user on toledoblade.com. To find out more, please visit the FAQ.