Carlson
Editor's note: This version corrects the employment of Mr. Weber and Mr. Jacksy at the Metroparks.
Call for volunteers: The Arts Commission seeks volunteers for events such as the Art Walk, Gallery Loop, SoundTrek, and its fund-raisers, the Mix and Hot Glass. The first of three volunteer training sessions will be 6 to 8 p.m. Feb. 19, in its office at 1838 Parkwood Ave. at Monroe Street. Attendance is required for volunteering. Reserve a seat by contacting Emily Finkel at 419-254-2787 or efinkel@theartscommission.org.
●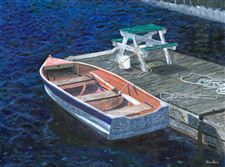 'Rowboat,' an acrylic painting by Timothy Hacker, is part of a show of his paintings and photographs on display at the Way Library, 101 E. Indiana Ave. in Perrysburg, through March 4. The show is coordinated by Prizm Creative Community.
Photos and acrylic paintings by Timothy Hacker will be at the Way Library, 101 E. Indiana Ave. in Perrysburg, through March 4. Hacker, a semi-retired physician, has taken photos around the world and exhibited widely. The show is coordinated by Prizm Creative Community. To see Hacker's work, check timhacker-docshots.com.
●
Makenzie Michalak's Junk's Yard-Dog, painted on the hood of a car, was the winner of a $500 scholarship in a contest for high school students sponsored by Cherry Picked Auto Parts. Michalak is a student at Whitmer High School. Six finalists each won $250 scholarships. All seven were given the hood of a junk car to serve as a canvas and $50 for supplies. The requirement was to create an automotive or junk yard theme. All of the hoods are on display at the parts company, 5650 N. Detroit Ave. Cherry Picked, owned by Joel Beren, plans to sponsor the contest again this year.
●
Introduction to Taking Great Nature Photos is a four-night class that will run 7 to 9 p.m. Mondays beginning Jan. 27 and continuing Feb. 3, 10, and 24 in the Secor Room at Secor Metropark on Central Avenue. Reservations are required by Jan. 20. The fee is $90. Teaching will be Art Weber and Bob Jacksy, both employed by the Metroparks of the Toledo Area. Classes will discuss making proper exposures, selecting the right lens, compositions, metering, and developing your own style. People may register for individual sessions. Information and registration: 419-407-9757 and art.weber@metroparkstoledo.com.
●
Upcoming workshops at Art Supply Depo, 29 S. St. Clair St., include making unique decorative papers using the paste paper technique, similar to paper marbling. In this process, paints, inks, and dyes are added to a gooey paste that's manipulated with brushes and tools to create custom patterns. Decorative papers can be used for book making, gift wrap, scrap booking, card making, and more. It will be 2 to 4:30 p.m. Sunday and the instructor is Michelle Carlson. The fee of $55 includes materials. And in a four-session class beginning Saturday, 1 to 4 p.m., Paul Brand will teach the elements of composition, contrast and color, value sketches, and the characteristics of color. Cost, $150, includes materials. Information: artsupplydepo and 419-720-6462.
●
Women of A New Tribe, a photographic study of the spiritual and physical beauty of black women, will open Friday and continue through Feb. 28 in the Gallery at Main Library, 325 Michigan St. In nearly 50 black and white images, Jerry Taliaferror of North Carolina, said he aimed to include women from all walks of life, and used a style reminiscent of glamour photography of the 1930s and '40s. A reception will be 6 to 8 p.m. Feb. 11, hosted by the Toledo Chapter of the Links, Inc. The gallery, on the second level, is open during Main Library hours. Information: 419-259-5200
●
Numbers, a show in the Sandusky Cultural Center through Feb. 16, is the result of creative efforts by 13 people who were asked to explore numerical symbols or to play off collective groups of numbers such as 10 commandments or plagues, 7 deadly sins or ages of man, 3 wishes or fates. They came up with paintings, graphics, encaustics, ceramics, jewelry, and sculpture. The center is at 2130 Hayes Ave., Sandusky. Information: sanduskyculturalcenter.org and 419-625-1188.
●
The 63rd annual Faculty/​Staff Exhibition continues through Jan. 19 in the Fine Arts Center's Bryan Gallery at Bowling Green State University. Hours are 11 a.m. to 4 p.m. Tuesday through Saturday, 6 to 9 p.m. Thursday, and 1 to 4 p.m. Saturday.
●
Peggy Grandbois of Findlay is the new executive director of the Arts Partnership of Greater Hancock County. She'll be responsible for financial and personnel management, media and public relations, strategic planning, and development. She's been the group's education director since August, 2005, and for the past three years was assistant director. Grandbois is a graduate of BGSU, Boston University, and the Hancock Leadership Class of 2012.
●
The Detroit Institute of Arts will be open from 9 a.m. to 4 p.m. Monday in honor of Martin Luther King, Jr. Day. It will have several workshops including guided tours of the African-American art collection at 11 a.m., 1 and 3 p.m., and a 2 p.m. film, King: A Filmed Record...Montgomery to Memphis, which follows King from 1955 to 1968 as he rises from regional activist to leader of the Civil Rights movement.
Rare footage of King's speeches, protests, and arrests are interspersed with scenes of high-profile supporters and opponents. Tickets: $8.50; seniors and students, $6.50. There is also an admission fee to the museum. Information: dia.org and 313-833-7900.
Contact Tahree Lane at: tlane@theblade.com or 419-724-6075.
Guidelines: Please keep your comments smart and civil. Don't attack other readers personally, and keep your language decent. Comments that violate these standards, or our privacy statement or visitor's agreement, are subject to being removed and commenters are subject to being banned. To post comments, you must be a registered user on toledoblade.com. To find out more, please visit the FAQ.