Clifford Murphy to jam with friends on 82nd birthday
Toledo Jazz Orchestra pays tribute to big bands
1/30/2014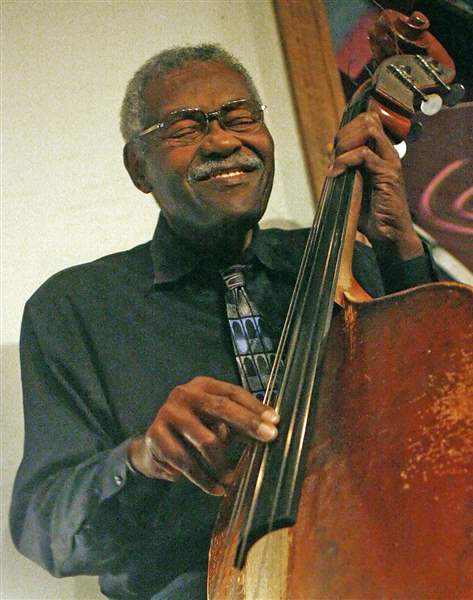 Jazz bassist Clifford Murphy will perform with friends to celebrate turning 82.
THE BLADE
Buy This Image
Patrick Hession
The job of any bass player is to anchor the band by keeping a steady and distinctive rhythm, and no one has been steadier or more distinctive in the Toledo jazz scene than Clifford Murphy.
A nationally recognized bassist, Murphy has been a stalwart in the local jazz scene for decades and the Art Tatum Jazz Society is celebrating Murphy's 82nd birthday Wednesday with a Birthday Jazz Jam from 6:30 to 8:30 p.m. at the Grand Plaza Hotel Ballroom, 444 N. Summit St.
Several musicians, including Glenda Biddlestone, Brad McNett, Jim Gottron, Kyle Turner, Josh Silver, Will Kinsey, "Blues" La Rue, and Vince Krolak, among others, will sit in with the legendary bassist and a house band.
Murphy, who still plays regularly around town, said he had a blast at last year's birthday and is looking forward to playing with all the different musicians.
"Everybody's naturally good, everybody's different. I like that," Murphy said. "We had a lot [of musicians] come out to the party last year. It was overwhelming, a lot of fun."
It's the city's camaraderie that makes Murphy think that Toledo, long considered a jazz town, will maintain the tradition, especially with young and talented musicians such as Ross Thompson, 14, and Lauren Smith, 12. Thompson, a student at the Toledo School for the Arts, showcased his guitar skills during Trombone Shorty's concert at the Peristyle in the fall and Smith's vocal talents are reminiscent of a young Etta James.
"[Young musicians] are into jazz. Hopefully, they'll keep it going," he said. "I was always told, jazz has no beginning and no ending, it goes on."
Drinks are $5 and small plates of food are $3.99. Tickets for the birthday jam are $20 for Art Tatum Jazz Society members and $30 for nonmembers. Student tickets are $5. Tickets can be purchased online at arttatumsociety.com. Deadline for making reservations is 2 p.m. Tuesday. Party-goers are encouraged to arrive early.
-------
Jazz bassist Clifford Murphy will perform with friends to celebrate turning 82.
Toledo Jazz Orchestra looks to heat things up
The Toledo Jazz Orchestra will present "A Hot Winter's Night" at 8 p.m. Saturday at the Valentine Theatre, 410 Adams St.
The jazz orchestra will honor the big bands of Maynard Ferguson, Woody Herman, and Buddy Rich and feature several former members of the bands, including longtime Toledo Jazz Orchestra soloist Scott Potter and fellow trumpeters Mike Williams (current lead trumpet of the Count Basie Orchestra and formerly of the Glenn Miller Band) and Patrick Hession (Maynard Ferguson's last lead trumpet player), Dwight Adams (current trumpeter for Stevie Wonder), and Dave Tippett (former lead trumpet with Buddy Rich). Mark Lemle, Gene Parker, Scott Rogers, Gary Schunk, Russ Miller, Steve Wood, and Dan Maslanka will also be featured.
Mike Williams
The orchestra will perform some of the bands' most popular, as well as some of the not-so familiar, arrangements such as, from Woody Herman's Thundering Herd: "Four Brothers," "Early Autumn," "Woodchopper's Ball," "Apple Honey," "Central Park West," and "Midnight Run;" from Maynard Ferguson: "Love Walked In," "Danny Boy," "Mira Mira," "Frame For the Blues," and "Whisper Not;" and from Buddy Rich: "Nutville," "Straight No Chaser," "Groovin' Hard," and "Norwegian Wood."
Tickets for "A Hot Winter's Night" with the Toledo Jazz Orchestra at the Valentine Theatre are $22, $27, and $32 and can be purchased at the Valentine Theatre box office, by calling 419-242-3490, or online at the ToledoJazzOrchestra.org.
Contact Bob Cunningham at bcunningham@theblade.com or 419-724-6506.