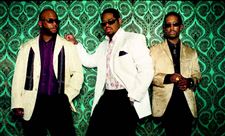 Limited tickets remain for the KeyBank Pops concert at 8 p.m. Saturday at the Stranahan Theater featuring Boyz II Men
What presenter doesn't want to sell out the house? Certainly, the Toledo Symphony is no exception.
So there are smiles in the TSO box office right now because its latest KeyBank Pops concert at 8 p.m. Saturday in Stranahan Theater is all but SRO.
There's no surprise, actually, because the guest performer is Boyz II Men, a major R&B group with over two decades of solid hit recordings and a loyal following eager for any face time with the talented group.
What tickets remain are $35-$55 at or 419-246-8000 or visit www.toledosymphony.com. Just a reminder that the TSO's upcoming 2014-2015 season is on sale now, promising fresh programs in its Classics, Mozart & More, Chamber, Family, and Pops series, plus special events.
The best way to hear the orchestra is to become a subscriber and purchase a series – major savings accrue plus there are perks. (One, of course, is not being shut-out of a Boyz II Men-type hit event.)
Topping the list will be the one-night-stand appearance by superstar violinist Joshua Bell, Jan. 31, 2015, in the Toledo Museum of Art Peristyle. Regular tickets for this big event are $70 per seat. But, for subscribers, the price is half that. Deadline to take advantage of the deal is tomorrow. For more information call 419-246-8000 or visit www.toledosymphony.com.
*
To better introduce its new production of Charles Gounod's Faust – dates are 7:30 p.m. April 25 and 2 p.m. April 27 in the Valentine Theatre – the Toledo Opera will offer a free public talk about the work early next week. Assistant director Fenlon Lamb and tech man Michael Baumgarten will share the podium for "The Devil's in the Details: Rejuvenating a Classic," at 5:30 p.m. Tuesday in Registry Bistro, 425 Jefferson Ave. A wine reception will follow, with tickets $10 at the door.
One hour before each of the weekend performances, a pre-opera talk will be presented in the Valentine's Grand Lobby, free to ticket holders.
*
The Toledo-Lucas County Public Library will mark Jazz Appreciation Month with a tribute to saxophone legend John Coltrane, noon-5 p.m. April 26 in Kent Branch, 3101 Collingwood Blvd. Co-produced by Kent managers and its resident Art Tatum African American Resource Center, with help from Local 14-268 of the Professional Musicians of Northwest Ohio, the lively afternoon will offer live music, crafts, and snacks.
The event, now in its seventh year, is free to the public.
*
Bowling Green State University has a busy lineup of performances in the coming week, starting with a debut performance by guest pianist Tianshu Wang at 8 p.m. Monday in Bryan Recital Hall of the Moore Musical Arts Center.
Dr. Wang, a professor in the Capital University Conservatory of Music, has performed and lectured across the Americas and in Asia. Her repertoire blends Western and music from her native China, where she is a professor and chair of the piano department at the Shenyang Conservatory of Music.
Flute students of Conor Nelson will be in the spotlight at 7:30 p.m. Tuesday in the Wildwood Metropark Manor House for its regular Music in the Manor House recital series. The event is free to the public.
Another esteemed pianist, Jerome Lowenthal, will be on campus April 25-26 for a master class and, at 8 p.m. April 26, a piano recital in Bryan. Lowenthal serves on the faculty of the Juilliard School and is a frequent and popular recitalist in the U.S. and Europe.
All events listed are free to the public.
*
Southview High School's Orchestra will play selections from the hit movie, Titanic, at the Imagination Station's current special exhibition about the ship at 11 a.m. Monday. Kathleen Hafner is director of the group.
Typically closed on Mondays, the downtown science center will be open that day from 10 a.m. to 5 p.m. Admission to both the center and its special exhibition require separate tickets.
*
The Lake Plains Chorus of the Fostoria Chapter, Barbershop Harmony Society, announces its 52nd annual show, this year, The Magic of Broadway, at 7:30 p.m. April 26 in Fostoria High School Performing Arts Center. Fred Schmidt directs this regional chorus.
Joining the choir will be several quartets, including Paragon, Recycled, and Vocal Spectrum, an award-winning quartet from St. Charles, Mo. Tickets are $12-14 at the door.
*
The Metropolitan Opera's Live in HD series continues on April 26 with Mozart's comic favorite, Cosi fan tutte, will play playing across the country and locally at 12:55 p.m. April 26. This production stars Susanna Phillips and Isabel Leonard with Matthew Polenzani and Rodion Pogossov, plus Danielle de Niese as Despina. James Levine conducts. Tickets are $22-24 at Franklin Park and Fallen Timbers Cinemark halls. Encore performance is at 6:30 p.m. April 30.
*
Fayette Opera House, the little venue that could keeps culture alive at 105 East Main St., in Fayette, announces upcoming programs on several of its series.
The Junior Choral Society of Northwestern Ohio, a popular group based in Pettisville, OH, will sing in the hall at 7:30 p.m. April 26, a free event with donation accepted. Organist Anthony Montagno is to perform at 3 p.m. April 27 in the historic hall, the final event in the Glasgow Reed Organ Series. Montagno is director of music at John Knox Presbyterian Church, Canton, but also has gained a reputation for a growing and eclectic body of performances with other artists. Tickets are $10-$12.
*
The Children's Choir of Northwest Ohio announces an audition preparation class for young singers grades 2-8 who are interested in becoming part of this chorus. The class will take place at 6 p.m. April 28 in Community of Christ Lutheran Church, 6517 Finzel Rd., Whitehouse. The choir, led by founder Lisa Alleman, is a nonprofit working with children in the Greater Toledo area. For further information visit www.ccofnwo.org. Or Facebook.
*
Congrats to solo and ensemble musicians from the Toledo School for the Arts for bringing home Superior or Excellent ratings in 13 of 13 events entered at the recent Ohio Music Education Association Junior High performance competition at Eastwood High annual show, this year, The Magic of Broadway, at 7:30 p.m. April School.
Send News of Music items to svallongo@theblade.com at least two weeks before event.
Guidelines: Please keep your comments smart and civil. Don't attack other readers personally, and keep your language decent. Comments that violate these standards, or our privacy statement or visitor's agreement, are subject to being removed and commenters are subject to being banned. To post comments, you must be a registered user on toledoblade.com. To find out more, please visit the FAQ.