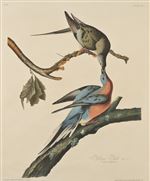 John James Audubon (American, 1785–1851), 'The Passenger Pigeon,' Plate 62 of Birds of America, 1829. Etching, aquatint (colored by hand), 30 3/16 by 26 1/8 inches. The work is part of a show opening April 25 at the Toledo Museum of Art.
TOLEDO MUSEUM OF ART Enlarge
In Fine Feather: Birds, Art & Science, opening April 25 in Gallery 18 at the Toledo Museum of Art, has 45 watercolors, engravings, and books, including recently acquired originals by Roger Tory Peterson, the late naturalist, ornithologist, and artist. There's a medieval treatise on falconry and paintings by John James Audubon, Alexander Wilson, and John Gould. It continues through July 6.
●A reception for a solo exhibit by Jerry Gray will be 7 to 11 p.m. Friday at Bozarts Gallery, 151 S. St. Clair St. # 104.
●Fourth Dimension, the Life and Work of Veronica Kaufman, is at the Way Public Library, 101 E. Indiana Ave., in Perrysburg through May 27. Born in 1929, Kaufman returned to college to study art after careers in bookkeeping and nursing. Drawings, mixed media, ceramics, and sculpture will be displayed in this show organized by Prizm Creative Community.
●A reception for Faux Space, a display of photos inspired by outer space, will be at the Ritter Planetarium on the University of Toledo's Main Campus through the end of May. Students in an elementary photo class were asked to create images that invoked a sense of space using all types of materials. A reception will be at 7 p.m. Wednesday.
Artist George Carruth will sign his work at the Garden Smiles shop, 211 Mechanic St., Waterville, 10 a.m. to 5 p.m. April 26.
THE BLADE/LORI KING
Enlarge | Buy This Image
●George Carruth will sign his cast-concrete creations at the Garden Smiles shop, 211 Mechanic St., Waterville, 10 a.m. to 5 p.m. April 26.
●More than 400 quilts will be on display in Founder's Hall at Sauder Village in Archbold, April 29 to May 4. The annual Quilt Show celebrates the tradition of quilting and includes workshops, demos, shopping, special exhibits, and more. Information: 800-590-9755 and www.saudervillage.org
●The Ohio Arts Council has announced its latest round of grants, of which $5,000 awards for individual excellence were given to Benjamin Stroud, Eric Pfeffinger, and Anthony Frame of Toledo; Mikel Kuehn of Sylvania; Wendell Mayo of Haskins, and Dawn Comer of Defiance. Receiving a $500 grant for professional support for an artist with a disability is Jeanne Furney, and seven people who live at Sunshine Inc. of Northwest Ohio in Monclova Township received a total of $3,000. The OAC distributed $424,813 to 71 individuals for excellence, 32 artists with disabilities, and 9 organizations. The council has a board of 15 appointed by the governor; none is from northwest Ohio.
●Also gifted is Lydia Horvath, a visual arts teacher at Toledo School for the Arts. She received a $5,000 fellowship from the National Artist Teacher Fellowship program, one of 16 selected from a pool of 80. She'll use the money to attend a printmaking course on combining image and word at Ox-Bow in Saugatuck, Mich., to rent a studio in the Davis Building, and a $1,500 post-fellowship grant to buy a letterpress for use by TSA staff and students. Horvath has taught at the school for seven years. To see her work, go to www.lydiahorvath.com
●Calls for artists:
● Downtown Monroe's Fine Art Fair will be Aug. 9 and 10, concurrent with the River Raisin Jazz Festival. Information: monroefineartfair.com.
● For additional artist calls, check www.artinsightemporium.com and MonroeArtistOpportunities on Facebook.
●See the Silence features work by people diagnosed with autism from Bittersweet Farms in Whitehouse and others who are represented by Open Door Studio in Columbus. It continues through May 4 at Wassenberg Art Center, 214 S. Washington St., Van Wert. Information: 419-238-6837 and wassenbergartcenter.org.
●The Michigan Modernism Exposition, April 26 (10 a.m. to 6 p.m.) and 27 (noon to 5 p.m.), will feature 20th century objects ranging from jewelry and vintage clothing to art glass, print art, furnishings, and more. It's at the Southfield Municipal Complex, 26000 Evergreen Rd., Southfield, Mich. Admission: $12. Information: 586-465-9441 and Michigan Modernism on Facebook.
Send items for News of Art two weeks before the event to tlane@theblade.com.
Guidelines: Please keep your comments smart and civil. Don't attack other readers personally, and keep your language decent. Comments that violate these standards, or our privacy statement or visitor's agreement, are subject to being removed and commenters are subject to being banned. To post comments, you must be a registered user on toledoblade.com. To find out more, please visit the FAQ.