41.70792
-83.60532
W. Toledo barbecue joint scratches that dry-rub itch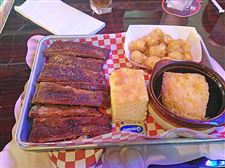 Half-rack ribs.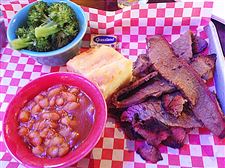 Brisket plate
Before the emergence of craft beer, barbecue was the king of DIY food entrepreneurs, and that long has been true in northwest Ohio and beyond.
Several area participants in the regional barbecue circuit have built upon their success and opened barbecue restaurants, and Smoke Bar BQ, 2556 Tremainsville Rd., is the latest to join the burgeoning Toledo market.
Operated by general managers John and Judy Brown —John is listed as the pit master and Judy the chef on the restaurant's Facebook page — Smoke specializes in a dry-rub style and has just two sauces, sweet barbecue and honey mustard, to complement the meat.
RELATED CONTENT: Smoke Bar BQ Menu

Click to see more of The Blade's restaurant reviews
Smoke Bar BQ
★ ★ ★
Address: 2556 Tremainsville Rd.
Phone: 419-214-0404.
Category: Casual.
Menu: American.
Hours: 4 p.m. to midnight Tuesday
through Sunday.
Wheelchair access: Yes.
Average Price: $$
Credit Cards: AE, Dis, MC, V.
Web site: Facebook and Twitter


The meats we sampled were very good and we don't mind passing along our recommendations.
Brisket often sets the tone for a barbecue restaurant, and Smoke's version was no exception. The brisket plate ($13.95) featured a plentiful portion of the finely smoked beef. It has an expertly refined smoky taste which isn't overbearing and stands well on its own. It doesn't need the sweet barbecue sauce, but at the same time, pairs well with it.
The ribs ($13.95 for a half rack) were just as good as the brisket. They were a little salty, but calmed down once the sweet sauce was added. The meat peeled off the bones with ease.
The pork sandwich ($7.95), while listed as sliced pork loin, can be ordered in the more familiar pulled-pork style. The tender meat posseses very little fat and is delicious smothered in the sweet sauce. It is served on a plain, but soft, sesame seed bun and it's even better if you opt to top it off with the creamy cole slaw.
We also enjoyed the gold nuggets ($5.95), which were tiny corn fritters, as well as sweet potato fries and corn bread, but the baked beans and ham and bean soup ($3 cup/$5 bowl) deserve special mention. The baked beans have bits of rib meat mixed in and the spicy soup is anchored by large chunks of ham. Neither should be missed by hungry patrons.
As much as we liked those dishes, there were some disappointments.
The bland half-pound burger ($9) had the consistency of meat loaf and no amount of barbecue sauce could add flavor to that burger.
The smoked turkey sandwich ($7.50) had thinly sliced meat similar to deli meat. It could have benefited from a thicker cut, although the honey mustard sauce added needed flavor.
Smoke should stick with more traditional barbecue joint sides. Its take on potato salad is julienne potatoes rather than the chunks you would expect. The result is a grainy salad that tastes as though the potatoes needed to cook longer and they are found swimming in a thin sauce rather than soaking up the mayo and mustard flavors.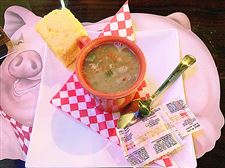 Ham and bean soup.
The macaroni and cheese also is a twist that doesn't work too well. It's a misnomer because the angel hair pasta is the base instead of macaroni. And it's not the creamy dish you were hoping for, but the cheese flavor is there and the nice crispy crust from being broiled is nice.
The restaurant's daily specials are sure to draw a crowd, especially on Thursdays and Fridays. Thursday's rib special is $1 a bone and Sporcle Trivia while Friday's special is smoked barbecue chicken dinners.
We visited on a recent busy Thursday and table service straddled quaint and understaffed, but the Browns' pride in their food and service is evident as soon as you walk in the door.
Smoke Bar BQ, open since December, is housed in a former Monnette's Market. Our waitress said it took almost a year to transform the interior into the retro yet contemporary look it has now. It has a few booths and several tables, as well as a long and beautiful bar. More updates are planned for the future, such as a banquet hall and an outdoor patio.
Here's hoping they also add beers on tap to their otherwise well-stocked bar because now their offerings include just bottles and cans.
Contact Bill of Fare at fare@theblade.com.
Star ratings are based on comparisons of similar restaurants. The Blade pays for critics' meals.
Click here to read more Blade restaurant reviews.
Guidelines: Please keep your comments smart and civil. Don't attack other readers personally, and keep your language decent. Comments that violate these standards, or our privacy statement or visitor's agreement, are subject to being removed and commenters are subject to being banned. To post comments, you must be a registered user on toledoblade.com. To find out more, please visit the FAQ.