Samuel Todd Williams, 24, right, was arrested in the slaying of Johnny Clarke, 21, and Lisa Straub, 20, left.
An East Toledo man was arrested Thursday night in the Jan. 31 slaying of a young Springfield Township couple who were found with their wrists bound by duct tape and plastic bags covering their heads.
Samuel Todd Williams, 24, was arrested by detectives at the Lucas County Sheriff's Office where he was being questioned. He was charged with two counts of murder, two counts of aggravated burglary, and one count of domestic violence. His last known address was 1626 Kelsey Ave.
The murder and aggravated burglary charges were filed in Sylvania Municipal Court, and the domestic violence charge was filed in Toledo Municipal Court.
Johnny Clarke, 21, and Lisa Straub, 20, were found dead in Ms. Straub's parents' Longacre Lane home.
Investigators have said they believe the pair were killed in an apparent robbery attempt that occurred while Miss Straub's parents were on a Caribbean cruise.
The sheriff's office said at the time that the crime was not a random act of violence and that Miss Straub and Clarke were targeted.
Maytee Vasquez-Clarke, Johnny Clarke's mother, said she was stunned when detectives called her with news of the arrest.
"I'm in shock. I'm numb. My heart's beating 140 beats per minute," she said.
Mrs. Clarke said she was in a store purchasing white candles to light for Johnny — a custom she said she performs every day — when Detective Jeff Kozak called her. Her first reaction was to scream in joy.
Mrs. Clarke said her nephew had to hold her up because she nearly passed out.
"Oh my God," she said. "It's bittersweet. It won't bring my son back. But I've prayed to God day and night to make an arrest and bring this evil demon off the street."
Mrs. Clarke said she looked at the jail booking photo of Mr. Williams and compared it with photographs of the suspect that were taken by a friend of the slain couple.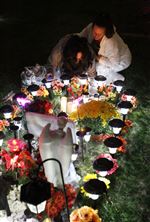 Maytee Vasquez-Clarke, left, is comforted by her sister-in-law Jennifer Rodriquez during a family vigil at the gravesite of Johnny Clarke, Thursday, Sept. 22, 2011.
The Blade/Andy Morrison
Enlarge | Buy This Image
"He was in the picture on Facebook. I'm on the Internet looking at his picture right now," she said.
"I hope he rots in eternal death in the pits of Hell for eternity. I hate him. He is the worst face of the evil demon I've ever looked at in my life. He's the picture of pure evil," she said, examining the booking photograph. "I hate him. I hate him for taking my beautiful son and Lisa from us," Mrs. Clarke said.
Her husband, John P. Clarke, found the bodies of their son and Miss Straub on the floor of the Straub home just before 4 a.m.
Detectives Jeff Kozak and Phil Williams, who were called to the house to investigate, said at the time that the Longacre Lane home was "a nightmare" when they arrived.
Miss Straub's parents were on a cruise celebrating their 25th wedding anniversary when family members had to call them home.
When the case started, information and tips from Crime Stoppers were flooding detectives' desks. As time has gone on, the information slowed down.
In an interview with The Blade last month, Detective Kozak said the detectives started each day by checking Crime Stopper tips and analyzing the information they have, trying to determine if there was something they hadn't looked at yet.
"A majority of our day is spent working the case," Detective Kozak had said. "Even the stuff that sounds ridiculous we follow up on. We will not put this one away."
Taking the candles she planned to set out on her porch last night, Mrs. Clarke, accompanied by family members and friends, visited her son's grave at Ottawa Hills Memorial Park. His grave site, visible from Talmadge Road, was lit by solar-powered lights in the shape of flowers and candles.
Mrs. Clarke, wearing a blue T-shirt with a picture of her son and his blue sweatpants, sat near his grave, holding a photo of her son.
"I will never have closure but now Johnny can fly high and free," she said. "Now [my son] is free. But I want him here with me."
Jennifer Clarke-Rodriquez and Maggie Cromer, Johnny's aunts, expressed relief and joy over the news of the arrest of a suspect.
"This is the best news she has ever heard," Ms. Cromer said. "At least it will bring a little closure. We've been waiting for eight very long, painful months."
James Verbosky, a spokesman for the Straub family, said in a statement that the news of the arrest "is a relief to the Straub family."
"This is not a happy time nor will it be a happy time for our family in light of the senseless loss of Lisa," the statement said.
Mr. Williams has five misdemeanor convictions in Toledo Municipal Court since 2006 on charges of domestic violence, aggravated menacing, two instances of disorderly conduct, and running a stop light.
Toledo police charged him on Nov. 4 with promoting prostitution and he was bound over to a grand jury in December. The grand jury did not return an indictment earlier this year.
He was convicted on a domestic violence charge on May 23 stemming from his arrest in March. Police said Mr. Williams went to the house of his ex-wife, Victoria Metcalfe, and kicked in the front door to get their 5-year-old son. Police said he threatened to have "females in his car come upstairs and beat her up." Related charges of menacing and criminal damaging were dismissed.
In June, 2010, he was given a suspended 30-day sentence on a conviction of disorderly conduct charge for pushing his wife to the ground and biting her wrist.
He received another suspended 30-day jail sentence for an amended disorderly conduct conviction June 30, 2010. Mr. Williams was originally charged with aggravated menacing for telephoning a woman to tell her he was standing in front of her home and planned to shoot into her residence and kill its occupants.
In December, 2006, he was convicted of a charge of aggravated menacing for threatening to kill the woman who was then his wife at her workplace.
Staff writers Taylor Dungjen and Mark Zaborney contributed to this report.
Contact Jim Sielicki at: jsielicki@theblade.com or 419-724-6050.
RELATED CONTENT: The Blade 2011 Homicide Report
Guidelines: Please keep your comments smart and civil. Don't attack other readers personally, and keep your language decent. Comments that violate these standards, or our privacy statement or visitor's agreement, are subject to being removed and commenters are subject to being banned. To post comments, you must be a registered user on toledoblade.com. To find out more, please visit the FAQ.