Ex-fire chief's son held in shooting at fire station
Wolever is city inspector; bullet ricocheted, hit person
9/26/2011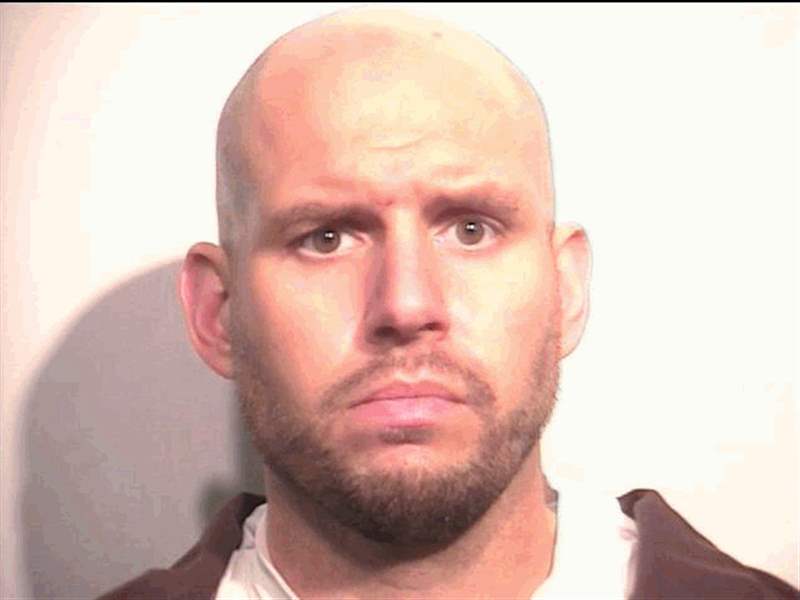 Toledo's current Fire Chief Luis Santiago, left, and Deputy Police Chief Derrick Diggs, discuss the arrest of Kevin Wolever. The suspect has been on paid administrative leave from his city job since sometime last week.
The son of former Toledo Fire Chief Mike Wolever was charged Sunday for allegedly shooting into an East Toledo fire station, about a mile from his home, late Saturday night.
Kevin Wolever, a city fire inspector, is scheduled for arraignment Monday in Toledo Municipal Court on charges of felonious assault and improperly discharging a firearm at a habitation. The two counts are second-degree felonies.
Mr. Wolever's arrest comes after authorities investigated a string of attacks on Toledo fire stations during the past week. Nobody was seriously injured in the five attacks.
Mr. Wolever, 32, of Toledo, was arrested and taken to the Lucas County Jail following the most recent fire station attack Saturday night, officials said during a news conference Sunday at One Government Center.
Authorities reported a shooting around 10:20 p.m. at Station 6, 642 Starr Ave. An on-duty firefighter was struck by the ricocheting bullet but was not seriously hurt and did not seek medical treatment, Fire Chief Luis Santiago said.
Police alleged Mr. Wolever shot the front of the fire station and the bullet went into the building, through glass and a wooden office door, then ricocheted off the wall and struck the firefighter in the chin.
Officials did not give a motive for the shooting.
Mr. Wolever has been on paid administrative leave since sometime last week, Chief Santiago said. He did not know which day Mr. Wolever went on leave, but said he believed it was before the attacks on the fire department began.
The fire chief declined to provide the reason for Mr. Wolever's administrative leave.
Records show the city hired Mr. Wolever on Aug. 15, 2008.
"We're truly grateful there seems to be closure to some of the action going on as of late," Chief Santiago said about the arrest. "It's entirety is not totally understood by everybody. … There's plenty of emotions going on right now."
Early on, police focused on Mr. Wolever as a possible suspect during its investigation, said Deputy Police Chief Derrick Diggs.
He declined to say why Mr. Wolever became a person of interest or whether Mr. Wolever is a suspect in the other four incidents which police are still investigating.
On Saturday night, police allegedly watched Mr. Wolever walking from his home on 801½ Nevada St., toward the fire station, but lost sight of him. They heard the sound of a gunshot, and Mr. Wolever was arrested a short time later, police said.
When he was apprehended, Mr. Wolever was wearing a bulletproof vest. He also was in possession of a 9mm gun and two clips, Chief Diggs said.
Police said the gun had fired one round and they later recovered a 9mm shell and other evidence to test.
Authorities also obtained a search warrant for Mr. Wolever's home.
Chief Diggs declined to say what items police took from the home, but said they are expected to execute a search warrant later Monday to search Mr. Wolever's vehicle, which was impounded.
Mr. Wolever is a civilian employee whose job is to make sure businesses and occupancies are up to code. Chief Santiago said he was not aware of any past problems involving Mr. Wolever.
Mr. Wolever's father, Toledo's former fire chief, retired on July 1.
Mike Wolever worked for the fire department for 33 years and retired this summer because he was limited to how long he could work under his pension plan. He did not return phone calls Sunday seeking comment.
An attempt to reach Kevin Wolever at the jail Sunday also was unsuccessful.
Saturday's shooting was the second incident at Station 6 in less than a week.
On Wednesday, shots were fired outside the station as well as at Station 9 at 900 South Ave. On Thursday, a package officials described as an incendiary device was found at Station 18 at 5221 Lewis Ave. Then a day later, a second incident was reported at Station 18 after a bullet mark was found on the door of a fire truck.
Contact Gabrielle Russon at: grusson@theblade.com or 419-724-6026.