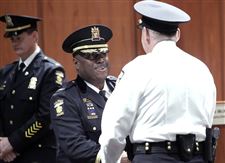 Police Chief Derrick Diggs congratulates Sgt. Ronald Frederick after he receives his new rank of lieutenant in the Toledo City Council chambers. Chief Diggs said the new officers were 'part of a new breed.'
The Blade/Amy E. Voigt
Enlarge | Buy This Image
EDITOR'S NOTE: This version corrects that Captain Brad Weis has served 34 years.
The eight Toledo police officers promoted Thursday are "part of a new breed" that will help usher the department into the 21st century, Chief Derrick Diggs said.
A ninth officer who could not attend the ceremony is expected to be promoted Friday morning.
Tamee Hoover hugs her husband, Richard Hoover, after giving him his new lieutenant's badge at the ceremony. Eight officers were honored; a ninth is to be promoted Friday.
The Blade/Amy E. Voigt
Enlarge | Buy This Image
"Don't forget what it took to get here," said Toledo Mayor Mike Bell to the officers.
The mayor urged the officers to continue their professional behavior on and off duty, but especially while in uniform.
"All these little kids are always paying attention to you," the mayor said. "They look at you as heroes and eventually may want to be like one of you."
PHOTO GALLERY: TPD promotes eight officers at ceremony
Chief Diggs, who led the officers in the oath of office, said some of the new officers will be assigned to new roles that deal specifically with the data-driven and technology-focused policing techniques that are being introduced to the department.
The new technology includes a Real Time Crime Center and surveillance cameras -- a project that is currently out for bid, the chief said.
There are 591 Toledo police officers, including a class of 44 in the academy, police Sgt. James Cornell said.
Promoted were seven men and one woman: Lts. Brad Weis, 56, and Thomas Wiegand, 53, to captain; Sgts. Richard Hoover, 41, Ronald Frederick, 41, and Phillip Cook, 48, to lieutenant, and officers Herbert Higgins, 43, William Bragg, 39, and Jessica Meyer, 34, to sergeant.
Officer Steve Harrison, 45, is scheduled to be promoted to sergeant Friday.
"I could not find a finer group of men and women to promote [my first time]," Chief Diggs said.
Toledo Mayor Mike Bell congratulates Sgt. Richard Hoover, center, and Sgt. Phillip Cook, right, on attaining their new rank of lieutenant. Seven men and one woman received promotions.
The Blade/Amy E. Voigt
Enlarge | Buy This Image
The officers come from a variety of backgrounds within the department.
Captain Weis, who has, most recently, been with the gang unit, is the longest-serving member of the department to be promoted -- he's been an officer for 34 years. Sergeants Harrison and Meyer both joined the department in 2001.
Sergeant Bragg, who joined the department in 1999, has worked in field operations and vice/narcotics.
During the brief ceremony, held in Toledo City Council chambers, the sergeant was presented his new badge by his wife, Lisa.
"It's real surreal right now," Sergeant Bragg said. "You always wait for this day. ... It takes months and months of studying."
Contact Taylor Dungjen at: tdungjen@theblade.com or 419-724-6054.
Guidelines: Please keep your comments smart and civil. Don't attack other readers personally, and keep your language decent. Comments that violate these standards, or our privacy statement or visitor's agreement, are subject to being removed and commenters are subject to being banned. To post comments, you must be a registered user on toledoblade.com. To find out more, please visit the FAQ.