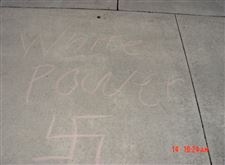 Photo of graffiti that was scrawled on the sidewalk in front of the home of Bowling Green State University basketball coach Louis Orr.
BOWLING GREEN -- Police said one boy "made an admission" to involvement in at least one of two racially charged incidents of graffiti and vandalism this week.
Police Lt. Brad Biller said four juveniles, ages 15 to 17, were questioned about a swastika and "white power" being written in chalk on the driveway of Bowling Green State University's men's basketball coach Louis Orr. One of the juveniles reportedly admitted to participation in the graffiti, Lieutenant Biller said.
The juvenile told police it was a "prank," and that one of their classmates -- who they consider to be a friend -- lives at that house. The boy also reportedly said the suspects were "engaged in other criminal mischief" Saturday night, including smashing pumpkins.
The teens have not been linked to the second incident, which was reported to police Monday afternoon.
Chad M. Franklin, 24, told police that someone smashed a watermelon on his car in the 200 block of East Merry Avenue and left a note with a racial epithet.
Lieutenant Biller said information would be given to the Wood County Prosecutor's Office to determine if charges will be filed.
"Every indication is that they thought they were being funny," Lieutenant Biller said.
Guidelines: Please keep your comments smart and civil. Don't attack other readers personally, and keep your language decent. Comments that violate these standards, or our privacy statement or visitor's agreement, are subject to being removed and commenters are subject to being banned. To post comments, you must be a registered user on toledoblade.com. To find out more, please visit the FAQ.