Contenders face battle for sheriff in area counties
10/30/2012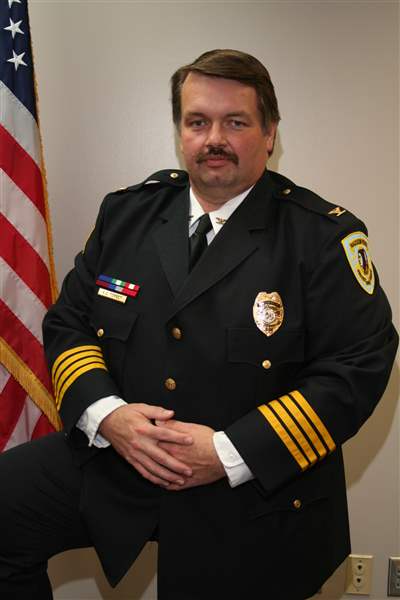 Keith Torbet is a candidate for Fulton county Sheriff and currently Wauseon police chief.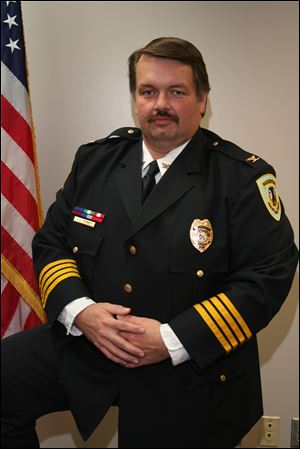 Keith Torbet is a candidate for Fulton county Sheriff and currently Wauseon police chief.
While Henry County Sheriff John Nye and Putnam County Sheriff James Beutler both hope to hang onto their jobs Nov. 6, there will be a new sheriff in Fulton County no matter who wins.
Chief Deputy Roy Miller, a Republican, is running against Wauseon Police Chief Keith Torbet, an independent, to fill the position held for 28 years by retiring Fulton County Sheriff Darrell Merillat.
"I just enjoy being out there and talking with people, listening to them and working out their problems to the best of our ability," Mr. Miller, 44, of Delta said.
A full-time deputy since 1991, Mr. Miller said that if elected he plans to be a more visible sheriff and said he will work to get more training opportunities for the 23 sworn officers in the department.
Mr. Torbet, 49, who has been with the Wauseon Police Department full-time since 1987 and chief since late 2003, also worked for five years as a corrections officer for the sheriff's office.
He has a long list of things he'd like to do if elected sheriff — update and standardize policies, procedures, and job descriptions;, clear up lingering employee grievances;, step up training for deputies; and improve cooperation among local police and fire departments and the sheriff's office.
"I felt that in the last seven or eight years, the sheriff's office has been seriously going downhill," Mr. Torbet said. "There have been serious morale issues, serious training issues. We have under 100 law enforcement officers in the county. We all know each other, and we're family, and I did not like the way the current administration was handling things."
In Henry County, Sheriff Nye, 62, is seeking his seventh, four-year term. The Republican said he has managed the office and its $1.2 million budget during tough economic times that he expects will continue.
"We've been able to keep people safe for the last 24 years," he said. "Our technology has increased tremendously. Our 911 system is the latest technology that's wireless compatible to locate people calling from cell phones. Those are the types of things we've done over the last 24 years and still managed to balance our budget."
Michael Bodenbender, who was hired by Sheriff Nye in 1990 and later promoted to sergeant, resigned his position in March just three years shy of retirement in order to run for his boss' job.
"It was the hardest decision I ever made in my life," said Mr. Bodenbender, 53, an independent candidate. "I love my job, but I had the backing of my family, and I know I had the backing of officers at the sheriff's office. Things need to change there, and this is the only way things are going to change."
If elected, Mr. Bodenbender said he would get more deputies out of the office and into patrol cars, himself included. He pledged to start the county's first canine unit, work to improve training and equipment, and restore a cooperative spirit between the sheriff's office and other emergency responders.
"We all do the same job, and we need to help each other out," Mr. Bodenbender said. "We don't always get that."
Putnam County Sheriff James Beutler has a challenging race for re-election for different reasons.
Three years ago, his then-wife Kathy Beutler admitted embezzling some $261,000 from her former employer, the Ohio Farmers Union. Convicted of aggravated theft and sentenced to three years in prison, she remains behind bars awaiting a decision on her sixth request to be released early.
The three-term Democratic sheriff insists his ex-wife's crimes should not taint his re-election bid. He is running on his record, he said, a record that shows he's operated his office and the county jail efficiently and focused on crime and accident prevention and education. If re-elected, he said he hopes to start a "triad" program similar to one in Hancock County in which senior citizens are involved in crime prevention efforts.
Sheriff Beutler, 58, who divorced his wife of 20 years earlier this year, said he knew nothing of her theft or spending — much of which involved running up credit card debt on routine expenses then using one credit card to pay off another. He said she took care of paying household bills from their joint account so, like many spouses, he was unaware of any irregularities.
"I had no worries, no concerns," he said, adding, "I learned a lot from this, and I try to educate people about that, too."
His challenger, Republican Michael Chandler, is a retired sheriff's deputy. He declined to comment for this story.
In Lucas County, Democrat John Tharp is unopposed in his bid to succeed longtime Sheriff James Telb. Wood County Sheriff Mark Wasylyshyn, Ottawa County Sheriff Stephen Levorchick, Sandusky County Sheriff Kyle Overmyer, Seneca County Sheriff William Eckelberry, and Defiance County Sheriff David Westrick all are unopposed in their bids for re-election.
Contact Jennifer Feehan at: jfeehan@theblade.com or 419-724-6129.