Juanita Williams, left, mother of Lynette Lenora Reid, and Reid's daughter Krystal show shirts made in Reid's honor at Ms. Williams' home in Toledo. Reid died on Sept. 17, 2008.
THE BLADE/ZACK CONKLE
Enlarge | Buy This Image
After struggling to understand the death of her daughter, whose badly burned body was found in an abandoned central Toledo home more than four years ago, Juanita Williams finally knows what presumably happened on that September night.
What she wants to know is why.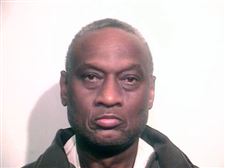 Ronald Martin.
NOT BLADE PHOTO Enlarge
Ronald Martin, 60, of Toledo was indicted Friday by a Lucas County grand jury on two alternate counts of murder. He is accused of strangling 40-year-old Lynette Lenora Reid on Sept. 17, 2008, then burning her body.
"I'm happy. I'm sad. There's closure, but I'm not going to get her back," Ms. Williams said of the arrest. "He deserves everything that he's getting."
Although Ms. Reid's death was considered suspicious, a toxic level of drugs in her system led officials to believe she died from an accidental overdose. Shortly after, her death was determined to be the result of "combined drug intoxication" and was ruled accidental.
It was not until a week ago, when Martin himself contacted authorities, that Toledo police learned she was the victim of a homicide.
"In my almost 30 years of law enforcement experience, this is the first time anybody has walked in the door and confessed to murder," said Detective Bart Beavers of the department's cold-case squad. "It restores my faith in humanity."
Police said Martin came to the downtown Safety Building Nov. 23 and claimed he wanted to confess to murder. He told the detective he was responsible for Ms. Reid's death more than four years earlier.
Detective Beavers said that Martin, who has no permanent address, told him that he met Ms. Reid on the day of the incident and that the two were intending to buy and use drugs together. The detective said that Martin confessed that he became angry with Ms. Reid because he believed that she shortchanged him in the drug transaction.
Martin told the detective that he strangled Ms. Reid, then set fire to the mattress on which she lay. "What he said was consistent with the facts as we know them," Detective Beavers said.
Martin was arrested Nov. 23 and booked on a charge of aggravated arson. He has been arraigned in Toledo Municipal Court and is being held in custody in lieu of a $100,000 bond.
Detective Beavers said the arson charge was not presented to the grand jury.
Since learning of new information, the coroner's office is in the process of changing the verdict in Ms. Reid's death to "combined drug toxicity and asphyxia by application of choke hold" and will determine the manner of death to be homicide.
"He's somebody who is a long-time drug user who has been carrying around a burden that was too heavy to carry," the detective said.
According to information known at the time, Ms. Reid's body was found just before 9 p.m. on a mattress in an attic closet on the second floor of the house at 811 Nesslewood Ave., near West Central Avenue.
Her body was so charred that she was not identified until about one week later with the use of dental records.
Detective Beavers said that authorities found no indication at the time that an accelerant had been used to start the fire. The mattress that Ms. Reid's body was found on had been so burned, only the springs remained, officials had said.
According to court records, Martin had previously been convicted and served time in prison for a rape conviction from a 1983 case.
Ms. Reid was the mother of six children still living, now ages 25, 24, 16, 15, 10, and 6. Ms. Williams said her daughter's first-born child died in the years since his mother's death as a result of suicide.
Ms. Williams said her daughter was an easy-going woman who was friendly with everyone. She remembered fondly that Ms. Reid would do what she could for anyone else, including opening up her home and offering food to those who needed it.
"When he took her life, he not only took her from me and the kids, he took her from a lot of people," Ms. Williams said.
Although angry at her daughter's alleged killer, Ms. Williams acknowledged she was surprised Martin allegedly came forward to take responsibility after so many years.
"Why? Why did you do it?" Ms. Williams said she'd like to ask. "I mean, do you have nothing else to do with your life but to take anybody else's?"
Contact Erica Blake at: eblake@theblade.com or 419-213-2134.
Guidelines: Please keep your comments smart and civil. Don't attack other readers personally, and keep your language decent. Comments that violate these standards, or our privacy statement or visitor's agreement, are subject to being removed and commenters are subject to being banned. To post comments, you must be a registered user on toledoblade.com. To find out more, please visit the FAQ.