41.71601
-83.54394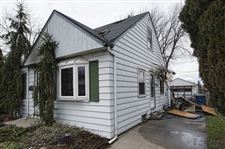 Two men rescued from a Sunday morning fire at 205 Orville Dr. were hospitalized for their injuries, but were expected to survive.
NOT BLADE PHOTO Enlarge
Two Toledo men remained hospitalized Monday, victims of a fire in a West Toledo home.
Derrick East, 21, was in serious condition at Mercy St. Vincent Medical Center, a hospital spokesman said. The other man's name and condition were not available.
A neighbor who saw the fire at 205 Orville Dr. called 911; fire crews were dispatched at 6:32 a.m. Sunday, Toledo fire Lt. Matthew Hertzfeld said.
"The smoke was so heavy, it took them a second to figure out which house was on fire," the lieutenant said.
One of the men was outside of the home when fire crews arrived, but as a crew went into the home, they found another man on the ground, near the front door, Lieutenant Hertzfeld said.
Firefighters pulled the man from the house and began working to revive him.
"It was a pretty dramatic scene there," Lieutenant Hertzfeld said.
Both men are expected to survive, officials said.
"This is where it becomes personal," Lieutenant Hertzfeld said. "I've been on saves in my career. ... It's very dramatic and can be emotional for some people when you rescue somebody."
The two crews who responded had only 25 minutes left in their 24-hour duty tour when the call came in, the lieutenant said.
"This just shows how dynamic a tour of duty can be at the station," Lieutenant Hertzfeld said. "They were 25 minutes from going off duty, after a busy Saturday, and their day ended with a rescue and saving someone from a fire. That's what we train for."
Lieutenant Hertzfeld said damage to the home, which was built in 1959, is estimated at $15,000.
It's unclear where the fire started or what caused it, but most of the fire was contained to the kitchen, the lieutenant said. The property, owned by Charles and Dawn East, is valued at $68,700, according to the Lucas County Auditor's Web site.
The lieutenant added that the house had no smoke detectors.
Smoke detectors, he added, can be picked up for free, for Toledo residents, at any of the city's fire stations.
Contact Taylor Dungjen at: tdungjen@theblade.com or 419-724-6054, or on Twitter @tdungjen_Blade.
Guidelines: Please keep your comments smart and civil. Don't attack other readers personally, and keep your language decent. Comments that violate these standards, or our privacy statement or visitor's agreement, are subject to being removed and commenters are subject to being banned. To post comments, you must be a registered user on toledoblade.com. To find out more, please visit the FAQ.