Sandusky detectives found numerous cemetery decorations at Jeffrey Huey's residence in Clyde. Mr. Huey, 23, appeared in Sandusky Municipal Court on Monday on felony counts of theft, breaking and entering, and vandalism.
PROVIDED BY THE SANDUSKY POLICE Enlarge
SANDUSKY — One of the first signs of trouble was two missing urns.
Workers at Oakland Cemetery know well the graveyard's grassy grounds. Since 1850, Sandusky has buried its dead here, as the city's first mayor and early residents lie amid the 65 acres.
On burial plots, flower pots mark and memorialize, and suddenly they, like the two urns which vanished around April from a family mausoleum, were missing.
"We just started noticing more stuff started disappearing," said cemetery Manager Dan Hedberg. "We're out mowing; we notice some of this stuff is gone."
Some of those items turned up a couple days ago in the most unusual place — in plain sight, in piles and rows along a residential driveway off Sandusky County Road 213 just west of Clyde.
PHOTO GALLERY: Click here to view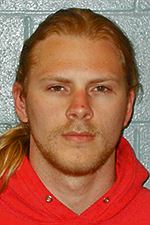 Huey
ERIE COUNTY BOOKING PHOTO. NOT B Enlarge
Police found a trove of roughly 60 to 70 items they said were taken from area cemeteries, including Oakland, at the residence of Jeffrey Huey, 23, of Clyde. He allegedly amassed a large collection of statues, urns, and planters that once guarded graves and now are evidence in a cryptic crime.
Mr. Huey was arraigned Monday in Sandusky Municipal Court on felony charges of theft, vandalism, and breaking and entering. His bond was set at $20,000, with an option to post 10 percent cash. He remained in the Erie County jail.
A number listed to the Clyde residence where authorities said he lives with his parents was disconnected.
Authorities began to unravel the mysterious disappearances last month after meeting with Mr. Hedberg to discuss the Oakland thefts, which included many heavy, old items dating to the early 1900s or earlier.
With electronic devices borrowed from the state Bureau of Criminal Investigation, police hooked up surveillance video at the cemetery and waited for something to go missing again.
They placed a potted tree at the same site where two trees had been taken. Around 2:15 p.m. Friday, about a week after the plant was — well, planted — police were alerted to activity and saw a white sport utility vehicle leave the cemetery. In the back of the vehicle was a potted tree.
The driver, Mr. Huey, allegedly confessed to taking the tree and three additional cement pots during other trips to the cemetery and told police the items were outside his house, according to a police report.
"We set the mouse trap and caught a mouse," Sandusky police Detective Gary Wichman said.
Sandusky police, with cooperation from the Sandusky County Sheriff's Office, went to the Clyde home along with Mr. Hedberg, who pointed out several items he recognized from Oakland. He estimates 10 to 15 pieces were taken from Oakland and said about three quarters have been recovered.
"We found more than we bargained for when we got there," Sandusky police Sgt. Dana Newell said.
The driveway collection featured benches, large concrete flower pots, granite pieces, and a chorus of mournful barefoot angels clutching bouquets in their stone hands.
Based on statements Mr. Huey made, Sergeant Newell said other cemeteries around the region, including southern Michigan, the Toledo area, and Erie County, may have been raided. They are trying to identify cemeteries where items might have been taken.
Officials from Toledo's city-owned cemeteries and Woodlawn Cemetery, located on West Central Avenue, said they aren't aware of any recent reports of missing items.
A Clyde Police Department log shows authorities responded May 22 to a report of suspicious activity at McPherson Cemetery. A caller reported a man in a white sport utility vehicle was "moving tombstones around." Police identified Mr. Huey as the person involved in the incident. No items were reported stolen, and he wasn't arrested. A Monday afternoon call to the cemetery office was not returned.
Workers told Mr. Hedberg they recognized Mr. Huey from his previous visits to Oakland Cemetery. He allegedly talked to crew members about a better way to clean headstones.
Mr. Huey commuted to Sandusky for a job at AutoZone, and police said he stopped at the cemetery on lunch breaks. A store manager at the auto parts shop declined to comment.
Police said they haven't found evidence yet that items taken from cemeteries were sold.
"He said he was an artist; he liked art, and he liked old things," Detective Wichman said. "He made some off-the-wall comment that he didn't think they were wanted anymore. ... I didn't buy that."
Mr. Huey is scheduled to be back in court June 13.
Contact Vanessa McCray at: vmccray@theblade.com, 419-724-6065, or onTwitter @vanmccray.
Guidelines: Please keep your comments smart and civil. Don't attack other readers personally, and keep your language decent. Comments that violate these standards, or our privacy statement or visitor's agreement, are subject to being removed and commenters are subject to being banned. To post comments, you must be a registered user on toledoblade.com. To find out more, please visit the FAQ.