41.66365
-83.57092
Driver unhurt in central-Toledo street collapse.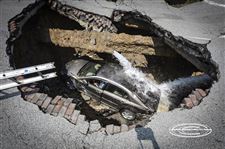 A sinkhole on North Detroit Avenue near Bancroft Street swallowed a car and its driver. Pamela Knox, who was taken to a hospital for examination, was not injured. Officials said a water main had burst as well.
FIRE LT. MATTHEW HERTZFELD Enlarge
Her car was in free fall.
"I was calling on the name of Jesus and all I could do was say, 'Jesus, Jesus, Jesus,' and I kept saying it over and over and over again," said Pamela Knox, whose car fell into a massive sinkhole Wednesday afternoon in central Toledo. "I know that's what kept me safe, was just calling on the power of the Lord."
Mrs. Knox, 60, the principal at Glendale-Feilbach Elementary School, was southbound on North Detroit Avenue, near West Bancroft Street, at about 12:15 p.m. when the road "caved in underneath me and my car started falling and rolling over and over until it came to a stop."
She'd been out running errands and was on her way home on Vance Street— only about a mile and a half away — when the street gave way.
PHOTO GALLERY: Sinkhole swallows car, driver in central Toledo
UPDATE: Some lanes re-open as crews make repairs after sinkhole
Once the Chevrolet Malibu stopped, landing on its wheels, water from a burst pipe started to fill the back seat.
"I didn't know what was going to happen. I thought I was going to die," Mrs. Knox said. "It was very scary. I didn't want to keep looking at it [the water] because it made it worse. I stayed face-forward, but it was filling up that back seat."
Still inside her car and waiting for help, Mrs. Knox was able to reach her cell phone and call her husband, Kenny Knox.
She hasn't a clue what she actually said to her husband, but he was quickly at the scene and then went with her to Toledo Hospital, where she was checked over by doctors and released.
A Toledo firefighter made his way down into the sinkhole and asked Mrs. Knox if she was OK.
He asked if she could open her car door — she could — and he helped her out and then up a ladder to the surface.
For Mrs. Knox, a lifelong Toledoan who has worked for 30 years at Toledo Public Schools, it might be a while before she's back behind the wheel of a car, and maybe a bit longer yet before she finds herself at Bancroft and Detroit.
"I'll be very careful if I decide to go that way again," she said. "I don't think I'll be down there any time too soon. At this point, I'm just resting. I'm not trying to go anywhere."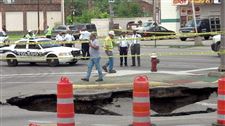 Mayor Mike Bell, far right, examines a large sinkhole that developed on North Detroit Avenue, swallowing a car and its driver.
THE BLADE/MIKE SIGOV
Enlarge | Buy This Image
Mrs. Knox said she has not spoken to any city officials, but at this point, that's one of the furthest things from her mind.
City spokesman Jen Sorgenfrei said the sinkhole was caused by the collapse of combined sanitary and storm sewers. She called the break the largest in recent city history.
Officials at the scene estimated the hole to be closer to 20 feet. It looked to be about two car lengths long and two car widths wide.
"That's huge. That's very scary," said Antoinette Robinson, 37, of Toledo. "I haven't seen anything like that in real life, only on TV."
The sewers — one 30 inches in diameter and the other 36 inches in diameter — were made of brick and constructed in 1891.
A 6-inch cast-iron water main from 1895 was broken as the car and street asphalt fell into the hole, she said.
Mayor Mike Bell went to the scene.
"I'm just happy that, as I understand, she walked herself out [of the hole]," Mr. Bell said. "We had a lot of rain lately and something must have washed out under the road."
Mr. Bell said it was fortunate the incident happened earlier in the day, before holiday traffic became heavy.
It will take city crews about four or five days to repair the road, he said.
The car was removed from the cavity shortly after 4 p.m.
North Detroit remained closed in both directions south of West Bancroft, while the other roads had reopened by 6:30 p.m.
Water services to about 25 buildings was shut off briefly and customers were advised to boil water until notified it is safe to drink again.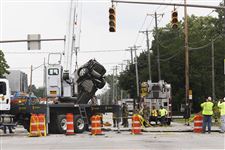 A Chevy Malibu is pulled from a sink hole that caved in near an old water main at the corner of Bancroft Street and Detroit Avenue.
THE BLADE/KATIE RAUSCH
Enlarge | Buy This Image
Ms. Sorgenfrei said many of the city's sewers are in need of replacement but the money is not there.
"Since the beginning of the year, we have 515 sewer-system repairs," Ms. Sorgenfrei said. "These are not necessarily sewer collapses. There are 68 active main complaints that need to be fixed and all of these, because we don't have the money in the system to replace the mains, have been spot repairs."
Ms. Sorgenfrei said part of a damaged sewer could be repaired and then break in a nearby spot.
"This is part of the long-term plan," she said. "It's like fixing a car that nickel-and-dimes you. At some point you have to be able to buy a new car."
Blade staff writer Ignazio Messina contributed to the report.
Contact Mike Sigov at:
419-724-6089,
sigove@theblade.com, or
on Twitter @mikesigovblade.
Guidelines: Please keep your comments smart and civil. Don't attack other readers personally, and keep your language decent. Comments that violate these standards, or our privacy statement or visitor's agreement, are subject to being removed and commenters are subject to being banned. To post comments, you must be a registered user on toledoblade.com. To find out more, please visit the FAQ.