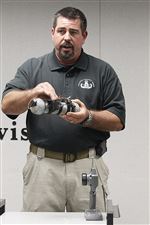 ATF Explosives Enforcement Officer Michael Eggleston demonstrates the workings of what authorities termed a 'basic representative' of the bomb used against the Chappells in Monroe two years ago. The bomber had to be in sight of the Chappell vehicle and no more than a half-mile away from it, Mr. Eggleston said.
THE BLADE/JETTA FRASER
Enlarge | Buy This Image
DETROIT — Components in a remote, hand-controlled radio — designed to turn the wheels on a child's toy car — were used instead to create the bomb that exploded under Erik Chappell's Volvo station wagon, federal investigators said on Friday.
On the two-year anniversary of the car bombing on East Elm Street in Monroe that seriously injured Mr. Chappell's two sons, the Bureau of Alcohol, Tobacco, and Firearms went public with a model of the home-made pipe bomb used in the explosion.
Michael Eggleston, an ATF explosives device expert, said key components used used to operate a radio-controlled toy, such as a car, boat, or airplane, were used to trigger the detonation device attached to an eight-inch galvanize steel pipe packed with a lethal combination of gun powder, ball bearings, and small-caliber bullets.
Mr. Eggleston said the the bomb's design put the person or people responsible for it to have "unique" control on its activation and the victims it would harm.
"When it was designed, it was designed for a specific purpose, that, at the very minimum, was destroying property. But in this case we were extremely lucky. This has every potential in the world to cause death," he said.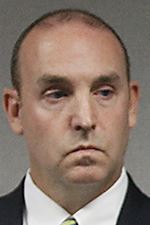 Chappel
THE BLADE/JETTA FRASER
Enlarge | Buy This Image
The replica of the pipe bomb constructed by Agent Eggleston was displayed to the media during a news conference at the ATF field office in Detroit.
The blast happened while Mr. Chappell, 44, was driving his sons, Grant, 15, and Cole, 13, to football practice at their school in Monroe. Both boys were seriously injured but recovered after undergoing multiple surgeries in a Toledo hospital.
Mr. Chappell, a licensed lawyer in Ohio and Michigan who has offices in Monroe and Sylvania, suffered cuts and bruises, but was not seriously hurt.
Mr. Eggleston, the ATF's explosive enforcement officer, said that because of radio frequency limits between the transmitter and receiver, the person or people responsible for the crime would have been within a half mile of Mr. Chappell's car when the device was detonated.
"Whoever activated this device would have been able to see the results and know that the children were inside," he said. "The main thing that makes this is unique is that you have someone who designed a weapon and method of attack that gives them control not only over the device itself, but over the the victims."
The bomb was hidden under the Volvo's front passenger seat, where Grant was sitting.
"This was designed with the specific purpose of killing someone," Mr. Eggleston said.
Though somewhat complicated in design, the device could have built from information available on the Internet, the agent said.
Federal agents said they don't know where the vehicle was parked when the device was planted in the chassis.
Mr. Chappell said his sons are doing "great," and Grant, a sophomore, and Cole, an eighth-grade student, are again playing football on their school teams.
"They have been very strong and courageous. We are thankful we get to see them every day. We are thankful that we get to see them do things, like playing sports," he told reporters at the news conference. "We recognize that it could have been a whole lot worse."
Mr. Chappell, who lives with his sons, two daughters, and wife in LaSalle Township in Monroe County, asked that anyone with tips or information, no matter how insignificant, reach out to authorities.
"It is one thing to have it target me, but another to have it targeted to my kids. We know there are people out there so please come forward," he said.
The ATF is offering a $10,000 reward for information leading to the arrest and conviction of the person or persons involved. Those with information are asked to call the ATF hotline at 1-888-ATF-BOMB (1-888-283-2662) or the bureau's field office in Ann Arbor at 1-734-887-0060.
Contact Mark Reiter at: markreiter@theblade.com or 419-724-6199.
Guidelines: Please keep your comments smart and civil. Don't attack other readers personally, and keep your language decent. Comments that violate these standards, or our privacy statement or visitor's agreement, are subject to being removed and commenters are subject to being banned. To post comments, you must be a registered user on toledoblade.com. To find out more, please visit the FAQ.