Editor's Note: This version corrects that Anderson's death is the 23rd homicide in the city of Toledo this year.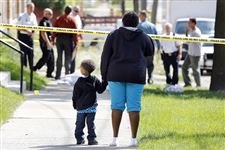 Deidra Hopings and her nephew Cross Hoffman, 3, watch as police investigate a shooting at 1520 Elm Street.
THE BLADE/JEREMY WADSWORTH
Enlarge | Buy This Image
There was no official word yet that the man shot outside of a North Toledo apartment complex had died, but neighbors already were convinced.
To the group of people gathered at the corner of Elm and East Bancroft streets, it was more unusual that the shooting had happened at midday than that another man was dead.
Killed was Andrew J. Anderson, 31.
"This is happening all the time," said a woman who lives nearby and refused to give her name, fearing retaliation. "But broad daylight? It's ridiculous."
Andrew Anderson
RELATED CONTENT: The Blade 2013 Homicide Report
Police said Anderson was shot "multiple times" outside 1520 Elm. A neighbor who heard gunshots and then saw the victim lying on the sidewalk called 911 at 1:23 p.m. Tuesday.
Paramedics loaded the victim into an ambulance, pumping a plastic bag trying to get oxygen into the man's body before taking him to Mercy St. Vincent Medical Center, where he was pronounced dead.
Numerous witnesses who watched police as officers made their way up to various doors, knocking, looking for anyone who might have seen anything, said they heard six shots all in a row.
"All I could think was to hit the floor," said a different woman who also lives nearby and fears retaliation.
A person who witnessed the shooting told police that a black man wearing a black hooded sweatshirt and red T-shirt fled the scene after the shots were fired.
Clara Anderson said that with so many people out on the street, someone has to know who killed her son, who lived at her Bancroft Street home. He recently had been diagnosed with Crohn's disease and was returning home after picking up a prescription when he was shot, she said.
"This is so wrong. They evidently didn't care who saw 'em, in broad daylight," she said.
Ms. Anderson said her son was athletic and enjoyed cooking. She said she didn't think he had any enemies — at least, "none that would shoot him down in broad daylight."
No suspects were named nor charges filed in the homicide, Toledo's 23rd this year, as of Tuesday night. Included in the city homicides are two reported at Toledo Correctional Institution, which falls under Ohio Highway Patrol jurisdiction.
Police could not say what, if any, motive there might have been for the shooting.
Daytime shootings, in Toledo, are not unheard of — but they occur infrequently. Of the 132 shootings reported to police this year, 33 — about 25 percent — happened during daylight. The majority occur at night or during the wee hours, Toledo Police Sgt. Joe Heffernan said.
Deidra Hopings was driving by the scene with her mother and young nephew Tuesday afternoon and decided she wanted to see what the commotion was about.
She took the 3-year-old boy, Cross Huffman, up to the crime-scene tape, where the toddler asked his aunt what happened.
"Somebody got shot," she told him.
"Got shot?" he asked, sounding surprised.
Ms. Hopings, a North Toledo resident, said the toddler understands what it means for someone to be shot.
"This seems like it's constantly going on," she said.
Police ask that anyone with information contact Crime Stoppers at 419-255-1111.
Contact Taylor Dungjen at: tdungjen@theblade.com, 419-724-6054, or on Twitter @taylordungjen.
Guidelines: Please keep your comments smart and civil. Don't attack other readers personally, and keep your language decent. Comments that violate these standards, or our privacy statement or visitor's agreement, are subject to being removed and commenters are subject to being banned. To post comments, you must be a registered user on toledoblade.com. To find out more, please visit the FAQ.