Patrol finds drugs worth $2.1Min Turnpike stop in Lake Twp.
9/24/2013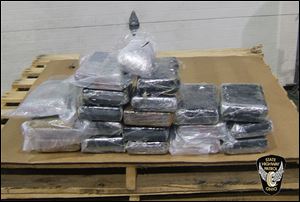 Ohio Highway Patrol troopers report they found 42 pounds of suspected cocaine and two pounds of suspected black-tar heroin in a traffic stop on the Ohio Turnpike in Lake Township. The drugs, troopers said, would be worth an estimated $2.07 million.
Two California men were arrested and are in the Wood County jail. Bobby Robinson, 24, of Carson, and Christopher Bustamante, 31, of Montebello, are each charged with possession and trafficking in cocaine and heroin, and possession of criminal tools.
Bond for both suspects was set at $500,000.
Troopers report stopping a tractor-trailer with California registration for a marked-lanes violation at 1:21 p.m. Monday. A drug-sniffing canine provided troopers probable cause to search the tractor trailer. Authorities report they found the drugs in the cab of the truck.
If convicted, each man could face up to 41 years in prison and a fine of up to $82,500.