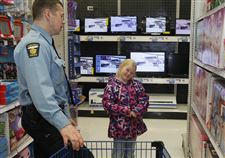 Toledo Police Officer Dan Henderson and Angel Grant, 7, evaluate an item in a toy department. Officers took 53 children shopping for the 12th annual Kids of Christmas program. They met at the Huntington Center downtown and then went to the Meijer store on Alexis Road to shop.
THE BLADE/JETTA FRASER
Enlarge | Buy This Image
Her first move was an "X" in the center square of the tick-tack-toe board drawn on a frosty bus window.
Angel Grant, 7, smirked at the Toledo police officer sitting next to her as if to say, "I dare you to beat me."
PHOTO GALLERY: 12 Kids of Christmas
In fact, with only a few quick moves, Angel destroyed Officer Dan Henderson.
Angel of Toledo was one of 53 children chosen to participate in the annual 12 Kids of Christmas program, which pairs a child in need with an officer for Christmas shopping.
For many of the children, who were recommended by Lucas County Children Services, this was their first positive interaction with a police officer.
"You don't have to be afraid of the cops," Officer Tyson Phalen told a group of youngsters during the bus ride from the Huntington Center to the Meijer store on Alexis Road. "Cops aren't mean, OK? Sometimes we arrest people because we have to."
Whenever you see a police officer, cross your fingers and wave, Officer Phalen told them.
It means good luck.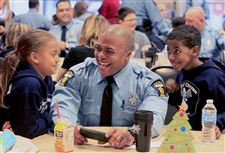 Siblings Tianna, 9, left, and Marreon Reynolds Williams, 7, look at photos they had just shot with Toledo Police Officer Jamal Owens. The event's aim was happy interactions between kids and officers.
THE BLADE/JETTA FRASER
Enlarge | Buy This Image
For the officers who volunteer to help, it's a chance to connect with children to show that they're just people too.
"I've got two dogs," Officer Phalen said, pulling out his cell phone and showing the children around him a picture. "One of them is named Harley. He's not like the smartest dog in the world. He gets running into walls when he's going fast. He's funny."
The annual shopping trip, spearheaded by Officer Joe Okos and his friend Zach Stewart, is in its fifth year.
The children are given $100 Meijer gift cards — Meijer donated $5,000 to the program. Plus the children get another $10 to cover taxes, and shop to their hearts' content with their assigned officer.
For Angel, it was pretty easy: Operation, a pink Disney princess bouncy ball, a few other toys.
She and Officer Henderson wove their way through the aisles, keeping track of how much money she was spending.
One officer this year was already somewhat acquainted with the 13-year-old he was shopping with.
Just a couple months ago, the officer pulled into an alley behind the boy, who had been kicked out of school but was back peering in a window at his classmates. When the boy saw the patrol car, he took off running, prompting the officer to chase him.
The boy recognized the officer on Monday, and reminded him of their previous meeting. Awkward!
Quiet at first, the boy loosened up as he got to know the officer, and eventually settled on buying a bicycle.
"Think you can catch me now?" he asked.
It only took Angel about 30 minutes to reach her spending limit.
Added to her cart was a bicycle horn she can use to wake up her brothers, and silly string to tease them with.
"I've never got this much stuff at the store before," she said as Officer Henderson pushed her cart toward checkout.
J'vhon Piyoi, 6, of Toledo wanted the pair of plastic handcuffs hanging way above his head.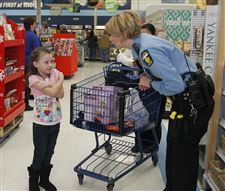 Jayden Salisbury, 7, left, talks with Toledo Police Officer Kelly Jordan. Meijer donated $5,000 to the program and other donors aided as well.
THE BLADE/JETTA FRASER
Enlarge | Buy This Image
Not a problem, but why stop there?
Officer Nick Czech took his actual handcuffs from behind his back, and showed the boy how to use them — you know, by locking Officer Henderson's hands behind his back.
"You're under arrest," said J'vhon, who wore a Teenage Mutant Ninja Turtle mask on top of his head.
Oftentimes, officers will reach into their own wallets to buy a little something extra for their charges.
This year, a trio of brothers came with orders from their mother: Buy shoes.
Each of the assigned officers, Detective Mark Nelson and Officers Tony Sosko and Gabe Greenwalt, paid for the shoes themselves so the boys could buy things they really wanted.
The oldest of the three brothers, Roy Lawson, 11, had help from Officer Sosko in picking out his black and blue Reebok high-tops.
"You're gonna look super good in these," Officer Sosko told him. "Telling all the girls you're 12. They're gonna love it."
Contact Taylor Dungjen at tdungjen@theblade.com, or 419-724-6054, or on Twitter @taylordungjen.
Guidelines: Please keep your comments smart and civil. Don't attack other readers personally, and keep your language decent. Comments that violate these standards, or our privacy statement or visitor's agreement, are subject to being removed and commenters are subject to being banned. To post comments, you must be a registered user on toledoblade.com. To find out more, please visit the FAQ.