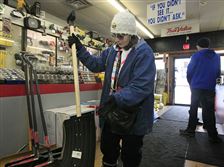 Ada Morrin looks for a new shovel Tuesday at Ondrus hardware in East Toledo. 'Do you know how hard it is to find a metal shovel? This is exactly what I want,' she said. Someone stole the one she and her husband had had for more than 26 years, Ms. Morrin said.
THE BLADE/JETTA FRASER
Enlarge | Buy This Image
Toledo may have missed out on a white Christmas.
But a white New Year's seems virtually certain — and enough to spoil the holiday for folks who work to keep roads clear.
What was potentially Toledo's second major snowfall in three weeks -- after two winters without any significant snows -- was shaping up Tuesday to arrive overnight and deliver anywhere from a few inches to more than half a foot.
The National Weather Service predicted 6 to 8 inches of snow for northwest Ohio.
AccuWeather, Inc. said 2 to 4 inches was more likely, at least for metro Toledo.
"I've been told we could get anywhere from 3 to 9 inches," said David Pratt, whose last days as Toledo's commissioner of streets, bridges, and harbor appeared likely to end with a bang. Mr. Pratt is being transferred to the sewer and drainage services division under Mayor-elect D. Michael Collins.
Whatever the amount, it is likely to be enough to keep streets division crews busy.
Mr. Pratt said 12-hour shifts had started late Monday for those workers because of the light snow that fell early Tuesday.
"Unfortunately, it's ruining New Year's Eve for the crews, but it's our job to keep the roads clear for everyone else," the streets commissioner said.
The workers' silver lining will be the double-time pay they'll get for all hours worked, in addition to eight hours' holiday pay.
"Unfortunately, the cost is going to be there, because it's a holiday," Mr. Pratt said.
Tuesday's weak "Alberta Clipper" storm put a preliminary coating of white across Toledo after warm weather over the weekend had melted some light snow from Thursday.
A load of salt is dumped into a truck at the Ohio Depart-ment of Trans-portation's Lucas County garage in Maumee. A winter advisory is predicting 1 to 2 inches of snow over-night, 1 to 3 inches more today, and an additional 4 to 6 inches after dark into Thursday.
THE BLADE
Enlarge | Buy This Image
The next storm was expected to be significantly stronger.
The National Weather Service expected light snow to spread, from the southwest, into northwest Ohio overnight and into southeast Michigan by sunrise. In some areas it expected two distinct periods of snow, one ending by afternoon today, with the second starting up in the evening.
A winter advisory for an area including Toledo, Sandusky, Tiffin, and Findlay predicted 1 to 2 inches overnight, 1 to 3 during the day today, and then another 4 to 6 inches after dark into Thursday.
Snowfall in southeast Michigan was forecast to be between 4 to 6 inches, while in the Wauseon and Defiance areas, the first snowfall was predicted to be between 2 and 5 inches and the second round between 3 and 5 inches.
AccuWeather, a private forecasting service based in State College, Pa., predicted lighter snowfalls across northern Ohio but expected the storm to deliver more than a foot of snow to southern New England, and 6-12 inches to metro New York, when it merges with a coastal weather system.
The National Weather Service predicted 4 to 8 inches in metro New York.
At The Andersons General Store at Monroe Street and Talmadge Road in West Toledo, manager John Kowalski said there was "some buzz in the crowd" about the weather as customers shopped for New Year's Day celebrations.
"I don't know that I'd call it a run just yet" on snow-fighting supplies, Mr. Kowalski said, but the store was ready with staple foods and other essentials.
"We're ready with rock salt, we're ready with shovels," he said. "We've got all the supplies for the customers."
Streets commissioner Pratt said officials from Toledo's "sister divisions" had been put on alert about the storm.
But as of Tuesday afternoon, none had been called for duty to assist with snow-fighting efforts.
The "sister divisions" are crews from parks and recreation, public utilities, and other city agencies whose vehicles can be fitted with plows to supplement streets-division trucks.
"It's going to be ongoing, a continuous storm," Mr. Pratt said.
Because of that, he said, many streets will look like they haven't been treated "because it's hard for us to keep up with it [the snow] until it stops."
Crews were out Tuesday spraying salt brine on bridges and, at city garages, making sure equipment was ready for the upcoming snowfall, Mr. Pratt said.
Theresa Pollick, a spokesman for the Ohio Department of Transportation, said state crews also were out Tuesday to spray brine, a salt solution that weakens the ability of snow and ice to bond with pavement, on I-75 and other major highways in the region.
"We're making sure we have people ready to go. We'll start extra patrols tonight," Ms. Pollick said. "Twelve-hour shifts will start at midnight -- possibly earlier out west."
The ODOT spokesman agreed that the storm will be "a long-term event" lasting most of the day Wednesday, similar to the storm that delivered 8 inches to Toledo Express Airport on Dec. 14.
Blowing and drifting snow is likely to be a problem after the storm clears out, but forecasts for sunshine on Friday should help with pavement conditions, Ms. Pollick said, even though temperatures that day may not get above the low teens.
The one blessing from both this storm and the last one, she said, is that ice is not an issue.
"Both of these storms are all snow," Ms. Pollick said. "People just need to slow down and use caution."
Guidelines: Please keep your comments smart and civil. Don't attack other readers personally, and keep your language decent. Comments that violate these standards, or our privacy statement or visitor's agreement, are subject to being removed and commenters are subject to being banned. To post comments, you must be a registered user on toledoblade.com. To find out more, please visit the FAQ.