TOLEDO, REGION START TO DIG OUT
Snow, crashes pile up in area as temps prepare to plunge
Wind-chill advisory set for today; roads slippery
1/3/2014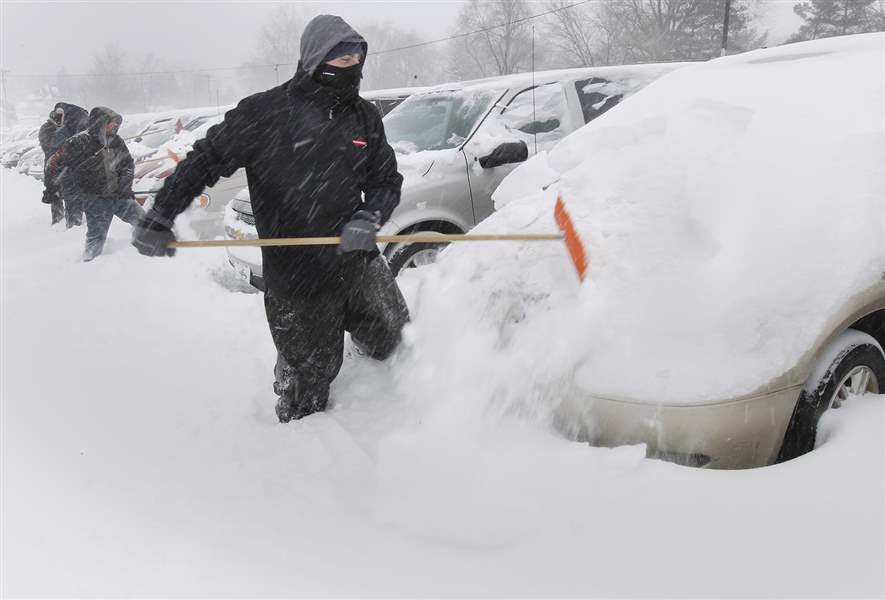 Al Tawil, owner of Nationwide Auto Finance, joins 12 workers shoveling snow off 900 cars in the lot as snow continues to fall at the business on Woodville Road in Oregon.
THE BLADE/LORI KING
Buy This Image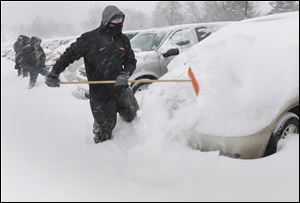 Al Tawil, owner of Nationwide Auto Finance, joins 12 workers shoveling snow off 900 cars in the lot as snow continues to fall at the business on Woodville Road in Oregon.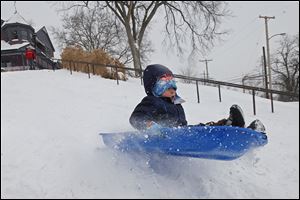 Benjamin Kuhlman, 5, hits a bump while sledding near Harvard School in South Toledo. His father, Toledo Municipal Court Judge Tim Kuhlman, took him sledding.
Toledoans dug out — and occasionally spun out — as a second day's worth of light but steady snow carpeted northwest Ohio and southeast Michigan with up to 4½ new inches on top of accumulations from New Year's Day.
Numerous traffic collisions, most of them minor, were reported across the metro area Thursday, and a city transportation official warned motorists that many Toledo streets were likely to keep some snow cover today as plow crews worked to catch up with the two-day storm that at 5 p.m. Thursday had brought an official total of 9.4 inches to Toledo Express Airport.
In addition to the snowfall, the storm has also brought frigid temperatures to Toledo. As of about 8 a.m. today it was -9 degrees at Toledo Express Airport, the coldest in Toledo since Jan. 17, 2009 when it was -14 degrees.
PHOTO GALLERY: Snowstorm strikes Toledo area
While the storm was expected to intensify into a full-blown blizzard today for New York's Long Island and coastal New England, in northern Ohio it was a steady but not spectacular snowmaker, with blowing and drifting snow an additional problem in rural, open areas.
Major Toledo streets are likely to have clear pavement in the tire tracks early today, but snow cover between them and between lanes, said David Pratt, commissioner of streets, bridges, and harbor.
"Some will look a little better than that, some a little worse, but that's the overall picture," said Mr. Pratt, adding that if forecasts for sunshine today prove adequate, that should help with pavement conditions even if predictions of bitter cold also prove accurate.
Theresa Pollick, a spokesman at the Ohio Department of Transportation's district office in Bowling Green, said state crews were having some luck getting freeways clear, but much of that pavement was "untreated" with deicing agents and thus deceptively slippery.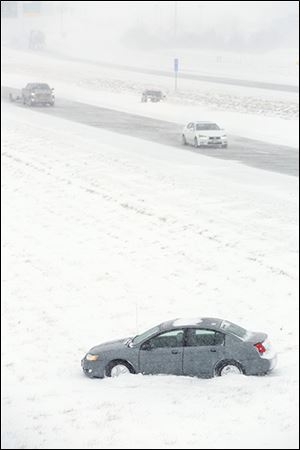 A car sits idle after sliding off I-75 southbound near the U.S. 23 exit during the snow storm Thursday.
"We've had some improvement, but people still need to be careful out there," she said after the snow in Toledo had generally tapered off to showers.
For Toledo Municipal Court Judge Tim Kuhlman and his son, Benjamin, 5, the snow was a perfect opportunity for sledding on the slope behind Harvard Elementary School in South Toledo, where the boy made trip after trip down a run toward a jump other children had built.
"Last year, I think we went sledding one time," Mr. Kuhlman said. "This year, I don't know how many times we've been out. And I'm glad we got to do this today — I'm back to work tomorrow."
But for letter carrier Nick Fitzgerald, it was just another day to deliver the mail, and the winter of 2013-14 seems to be making up for recent winters' milder conditions.
"This is the big payback. It's paying us back this winter — about five years' worth of payback," Mr. Fitzgerald said while walking his route on Inwood Drive.
Most snow at Toledo's airport, 6.8 inches, had fallen Wednesday, but in communities east and southeast of Toledo, the snowfalls Thursday were higher. ODOT reported 4½ fresh inches at its maintenance garages in Ottawa and Seneca counties and 4 inches at the Sandusky County garage, bringing the totals there to 8, 5½, and 7 inches, respectively.
With Wednesday a holiday, most people had the option to hunker down in their homes for the initial snowfalls, which kept traffic mayhem to a minimum. Area schools remained closed Thursday for the Christmas and New Year's break, but otherwise the day was much closer to a normal work day for many, and traffic crashes kept police busy.
Among the more disruptive were two crashes on I-280, one of which affected the Veterans' Glass City Skyway bridge.
Southbound traffic across the bridge was stopped or slow for nearly an hour at about 3 p.m. because of a noninjury crash. Ms. Pollick said there was some discussion about closing the bridge, but that did not occur because snow buildup on the span would have created an ice condition difficult to clear.
Don Haubert blows snow off his driveway in Fremont. Because of drifting snow, rural areas in northwest Ohio and southeast Michigan had more snow than Toledo.
On I-280's northbound side, one person was taken to Mercy St. Vincent Medical Center after a 2 p.m. collision approaching the State Rt. 795 interchange involving a pickup and a box truck. Traffic was tied up for about 45 minutes, according to the Ohio Highway Patrol.
And at 4 p.m., there were at least four concurrent, but separate crashes on I-475/​U.S. 23 between the Central Avenue and Airport Highway interchanges in Toledo's western suburbs, including at least one collision and a pickup that spun out and got hung up on a guard rail.
At their home on Monroe Street near Upton Avenue, sisters Sierra, Treona, and Lachelle Smith and their cousin, Latara Walker, found themselves put to work shoveling out the driveway and sidewalk — a chore occasionally interrupted by snowball exchanges and shovel dumps.
"It's really cold, and we have to shovel a lot," Sierra, 14, said. "On the other side, it's fun, we get to play in it, and have snowball fights."
Elsewhere across the nation, some schools in New England and New York closed before the storm arrived while cities mobilized plows and salt spreaders and state offices sent workers home early. Some major highways were ordered shut down overnight.
The governors of New York and New Jersey declared states of emergency and pleaded with residents to stay indoors in the northeastern United States, delaying or canceling thousands of flights.
The storm forced cancellation of nearly 2,500 U.S. flights with another 7,000 delayed. Chicago's O'Hare International and Newark's Liberty International Airport were hit the worst, according to FlightAware, a Web site that tracks air travel.
The National Weather Service issued a blizzard warning for Cape Cod, coastal areas north and south of Boston, and part of Maine as well as New York's Long Island, where 8 to 10 inches of snow could fall and winds could gust to 45 mph.
Fourteen to 18 inches of snow were forecast, with up to 2 feet in some areas along the Massachusetts coast.
The storm dropped as much as 18 inches on suburban Chicago and up to 10 inches on Michigan.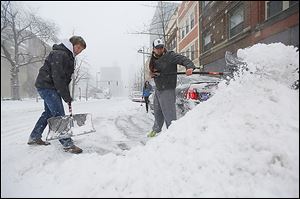 Brad Anderson, left, and Justin Guerrero shovel out their car, stuck on Madison Avenue on Thursday. The scene was a familiar one for many motorists.
AAA Michigan said it received 3,100 calls Thursday from drivers dealing with spinouts, cars in ditches, and dead batteries.
For northwest Ohio, it's about to get colder too.
While the storm's winds were expected to die down overnight, clearing skies were forecast to make temperatures drop several degrees below zero by sunrise, with a high today only about 10 degrees. A National Weather Service wind-chill advisory was posted for the Toledo area until 10 a.m.
Temperatures are expected to rebound into the upper 20s on Saturday, but that will be ahead of another snowfall expected Saturday night into Sunday.
"Right now, it doesn't look too crazy — maybe something like 2 to 4 inches," said Sarah Jamison, a meteorologist at the weather service's Cleveland office.
But after that, Ms. Jamison warned, an even deeper shot of cold air is poised to spill into the Toledo area.
The weather service's long-range forecast, as of Thursday evening, called for a low temperature Tuesday morning of -12, and a high of only zero, and the meteorologist said that if conditions are right, it could be even colder than that.
Twenty years ago, Toledo had daily record morning lows of -16 and -18 on Jan. 18 and 19, 1994, with subzero highs both days.
"We're looking very similar to that wave," Ms. Jamison said, adding that it's even possible that Toledo's lowest-recorded temperature, -20 on Jan. 21, 1984, could be in play on Tuesday morning.
Contact David Patch at: dpatch@theblade.com or 419-724-6094.