Police on the scene of a shooting in South Toledo.
The Blade/Lori King
Enlarge | Buy This Image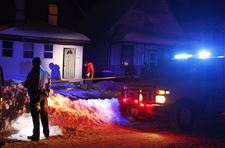 Police investigate a shooting on Colburn Ave. in Toledo, today.
The Blade/Lori King
Enlarge | Buy This Image
A South Toledo man was shot in the leg during an apparent robbery at his home late today, police said.
Darryl Howard, 47, was taken to Mercy St. Vincent Medical Center. A hospital spokesman had no information about a patient by that name. The gunshot wound in the right leg was not believed to be life threatening, but the injury was significant, said Toledo police Sgt. William Wauford.
The shooting took place about 7:55 p.m. in the 1000 block of Colburn Street. No one was in custody.
Perrysburg Township police were investigating a shooting reported after 8 p.m. in the Perrysburg Heights neighborhood. Police remained on the scene late today.
A Dodge Durango was seen driving around the area about the time of the shooting, authorities said.
Paramedics transported the victim to Mercy St. Vincent Medical Center in Toledo. The person's name and condition were not reported.
Guidelines: Please keep your comments smart and civil. Don't attack other readers personally, and keep your language decent. Comments that violate these standards, or our privacy statement or visitor's agreement, are subject to being removed and commenters are subject to being banned. To post comments, you must be a registered user on toledoblade.com. To find out more, please visit the FAQ.