TOLEDO FIREFIGHTER TRAGEDY
Inside huge crowd, the thanks are personal
Community rallies to show gratitude to Toledo firefighters
1/31/2014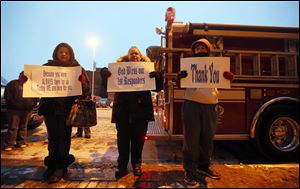 Toledoans Arianna Hudson, left, Sherry Ruiz, center, and Pete Ruiz brave the cold to honor firefighters outside of the SeaGate Convention Centre as mourners file past to go to the Last Alarm service for Stephen Machcinski and James Dickman.
A somber silence settled over the crowd of thousands who stood even before the funeral service started.
Thundering drums, regal bagpipes, a chiming bell all sounded their sad good-byes to Toledo firefighters James Dickman and Stephen Machcinski.
But something else — the hush, the stillness — also struck Jim Treadaway, as he filed out of the SeaGate Convention Centre after Thursday's service for the two men killed Sunday in the line of duty.
"I've never seen 5,000 people be so quiet. It was just, no coughing, nothing," said the father of a Toledo firefighter.
Residents and firefighters with badges from Cleveland, Detroit, and dozens from Columbus were among the throngs who filled the auditorium for a final salute.
About 40 firefighters from Windsor, Ont., took a bus to Toledo to attend the service, said Angelo Gertsakis, president of the Windsor Professional Firefighters Association.
"We just wanted to make sure we were part of it, to give our condolences to the families. It's tough," he said.
RELATED CONTENT: 'Last Alarm' rings for fallen heroes
RELATED CONTENT: Inside huge crowd, the thanks are personal
PHOTO GALLERY: Last Alarm Service 1
PHOTO GALLERY: Last Alarm Service 2
DOWNLOAD: Digital copy of Thursday's program
Some of the civilians in attendance had a fire-service connection; a family member who served and passed on a sense of duty and appreciation.
Mary Ann Swartz and her sister Sue Wiegand, both of Perrysburg, waited in the lobby for the doors to open. Ms. Swartz has three sons in the Toledo Fire Department; she said two of them joined at the same time as Private Machcinski. The firefighter frequently attended family gatherings.
She showed up for one simple reason: "It's for my sons, but it's for the entire department."
The service, though, had a larger purpose: It's "for the community," Ms. Swartz said.
Two hours before ceremonies started, Andy Ruiz of Toledo had found a spot next to the center's Monroe Street entrance, and he greeted firefighters with a sign that read "It's our turn to stand in the cold for you."
It was a small gesture by a stranger that did not go unnoticed. Some of the firefighters stepped out of line to shake his gloved hand.
"They take care of us. They do things normal people don't do. They run into fires while others run out," Mr. Ruiz said.
His daughter, Arianna Hudson, also of Toledo, stood nearby clutching another sign: "Because you were always there for us, today we are here for you."
They were joined by others, such as Matt Collins of Oregon, who held his own sign: "God has a special place in heaven for firefighters." Mr. Collins said his brother is a Washington Township firefighter who spent the night helping cover one of the Toledo fire stations so the city's firefighters could attend the service.
Inside the arena, sisters Caryn Salts and Sue Tucker, both of Toledo, found seats in the front of the bleacher section. The women said they feel like part of the city's fire service family because their father, William Winkle, once served as Toledo fire chief. They wore red ribbons pinned to their clothing.
"It is nice to see the community coming together, and … that's the way that it should be when somebody has passed on," Ms. Tucker said. "You see them all the time, you pass them on the roads, but, you know, now when I've passed a fire truck or a police car it's kind of like, 'Oh.' "
Ms. Salts drove by a fire station Monday when firefighters were lowering the flags in honor of the two lost men. She saw a firefighter walk out and salute.
"You notice those things so much more now," Ms. Salts said.
That sense of awareness and appreciation appeared to be a common thread among many who attended.
Brenda McFall of Toledo sat next to a friend who is also a wife of a Toledo firefighter. Ms. McFall said the loss affected many, even strangers such as herself.
"It's just love, through all the sadness, it's love," she said, as she gazed out at a sea of firefighters in dark dress uniforms.
"I'm sorry we had to wait for this time for me to tell the firefighters and their families and everyone thank you, but today, I shout out 'Thank you,' " Ms. McFall said.
Contact Vanessa McCray at: vmccray@theblade.com, 419-724-6065, or on Twitter @vanmccray.