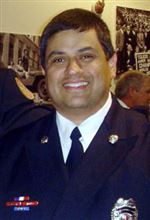 Ruiz
TEMPERANCE -- The Bedford Township Board today hired a former Toledoan as the community's new fire chief.
Rudy Ruiz, 51, is a graduate of Woodward High School and the University of Toledo who has been a member of the Sandusky Fire Department since 1991. He will be paid $70,000 annually.
Mr. Ruiz started with the Sandusky department as a full-time firefighter. He has served as a paramedic, department training instructor, and city fire investigator, and since 2006 has been the department's fire marshal, with duties that have included all risk reduction activities, grant writing, and representing the department with the public.
In moving to Bedford, he takes over a paid, on-call department riven by factional bickering and unsubstantiated allegations of corruption and malfeasance that has been without a chief since April 1. Board members expressed confidence that Mr. Ruiz would bring peace to the department and upgrade the skills of its firefighters. He is expected to start in mid-March.
Guidelines: Please keep your comments smart and civil. Don't attack other readers personally, and keep your language decent. Comments that violate these standards, or our privacy statement or visitor's agreement, are subject to being removed and commenters are subject to being banned. To post comments, you must be a registered user on toledoblade.com. To find out more, please visit the FAQ.