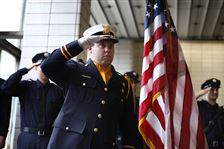 Toledo firefighter Kyle Wiley, front, helped a man who fell unconscious recently at the funeral of Mr. Wiley's grandmother.
THE BLADE
Enlarge | Buy This Image
Firefighters never know when they'll be called into action, even in what probably seems like the least likely scenarios.
Kyle Wiley heard a "thud" behind him.
Mr. Wiley, who was sitting next to his cousins in the front row at his grandmother's funeral on Monday, turned around and saw an older man slumped forward in a chair.
The 28-year-old Toledo firefighter jumped up, climbed over seats — knocking over a few — grabbed the man's arm, and helped him to the floor.
"I just reacted," said Mr. Wiley, a three-year member of the Toledo Fire Department. "It's just what we do. It was like getting a call for a run."
The man's eyes were closed; Mr. Wiley couldn't find a pulse on the man's neck.
His firefighter training kicked in, and Mr. Wiley started chest compressions on the man. He asked his sister, who is studying nursing, to call 911. Someone else was sent out to look for a defibrillator at the H.H. Birkenkamp Funeral Home on Tremainsville Road.
"People were looking around like, 'What do you need me to do?'" Mr. Wiley said.
A family friend, a nurse who came to Toledo from Florida for the funeral, stepped in to help — she tried to give the man air, although the effort was unsuccessful.
Mr. Wiley, who is currently in the second quarter of paramedic school, continued chest compressions for about two minutes when the man started to breathe and opened his eyes.
Soon afterward, Mr. Wiley's fellow firefighters arrived at the funeral home and transported the gentleman to a local hospital; Mr. Wiley said he walked the man's wife to the ambulance.
Although Mr. Wiley has not spoken with the man, he said it "sounds like he will be OK."
Citing privacy laws, officials were not able to provide the name of the man.
Mr. Wiley's grandmother, Barbara Posadny, 73, died Feb. 19 of chronic heart failure.
Since July, at least four off-duty Toledo firefighters have been in the right place at the right time when a stranger has needed help, said fire Lt. Matthew Hertzfeld.
In July, Pvt. Mike Fuelling was driving on I-75 when he stopped to help a woman whose husband collapsed in their vehicle.
Private Fuelling pulled the man from the car and started chest compressions in the right lane of southbound I-75.
The man survived.
In November, fire Lts. Craig Ellis and Kevin Gordon were at a University of Michigan football game when a bystander had a heart attack.
The two were able to help save the man's life, Lieutenant Hertzfeld said.
Lieutenant Gordon was called to help a second person who was in cardiac arrest that day.
Contact Taylor Dungjen at tdungjen@theblade.com, or 419-724-6054, or on Twitter @taylordungjen.
Guidelines: Please keep your comments smart and civil. Don't attack other readers personally, and keep your language decent. Comments that violate these standards, or our privacy statement or visitor's agreement, are subject to being removed and commenters are subject to being banned. To post comments, you must be a registered user on toledoblade.com. To find out more, please visit the FAQ.