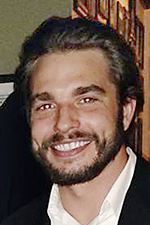 Rose
The U.S. Coast Guard recovered a body in Lake Erie on Thursday that is believed to be the fourth victim of a boating accident last month, officials said.
The body was spotted about 4:30 p.m. by a civilian who reported the discovery to the U.S. Coast Guard station in Toledo, Petty Officer Levi Read said.
A Coast Guard vessel and crew recovered the body in the lake off Locust Point in Ottawa County.
Andrew Rose, 33, of Maumee was the last one of four people who were reported missing after an April 17 fishing trip on the lake. Their boat was found capsized near Toussaint Reef, about five miles northeast of Locust Point.
Dr. Daniel Cadigan, the Ottawa County coroner, said in a news release that the body is believed to be that of Mr. Rose. An autopsy is to be performed by the Lucas County Coroner's Office.
Friends described Mr. Rose as an avid outdoorsman who enjoyed boating and fishing on Lake Erie, as well as hunting. He was a bartender at Home Slice Pizza on South St. Clair Street in the Toledo Warehouse District.
The body of Bryan Huff, 32, was recovered Tuesday; an autopsy was performed Thursday. Dr. Cadigan did not return a call seeking information about the autopsy.
Mr. Huff's body was found on a Carroll Township beach by Division Street near the Green Cove condominium complex.
The bodies of Amy Santus, 33, of Perrysburg Township and Paige Widmer, 16, of Pelion, S.C., were recovered shortly after the boat was found.
The first woman's body was pulled from Lake Erie near Toussaint Reef. The second was found in Lake Erie near Niagara Reef.
Both women were wearing life jackets, and their causes of death were ruled drowning.
Guidelines: Please keep your comments smart and civil. Don't attack other readers personally, and keep your language decent. Comments that violate these standards, or our privacy statement or visitor's agreement, are subject to being removed and commenters are subject to being banned. To post comments, you must be a registered user on toledoblade.com. To find out more, please visit the FAQ.