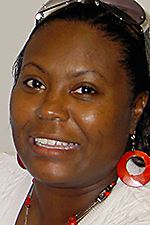 Burns
A newspaper carrier for The Blade is being credited with alerting authorities about a house fire that began in the early morning hours Friday and for possibly saving the structure from destruction.
Antoirnette Burns, who has been delivering papers for The Blade for 16 years, said she is used to keeping a careful eye out for unusual activity because her job requires her to be out on the streets when they are otherwise deserted.
She began her route as usual around 3:30 a.m Friday, when about a half-hour later she noticed a strange "bright golden orange glow" coming from a home in the 1200 block of Vance Avenue.
Ms. Burns said she parked her vehicle and walked toward the house and noticed smoke billowing from cracks around around the window seal.
"I was thinking it's the middle of the night that somebody is asleep in there. Then I thought I need to call the fire department. Then I thought I need to move — I need to do something. I couldn't just stand there and wait for 911," she said.
She starting banging on the windows and door of the home and yelling to alert someone inside. When there was no response she started yelling and banging on the doors of neighboring homes.
"I should be hoarse by now because I never stopped yelling," Ms. Burns said.
Luckily Ms. Burns was wrong about someone being inside the structure. Toledo Fire Department officials said details about the fire were not available Friday evening, though the blaze caused about $7,000 damage.
Ms. Burns said this is not the first time her job has allowed her to come to the aid of people on her route. She was one of the first to discover a huge sinkhole had opened on Fernwood Avenue near Detroit Street in March.
Fernwood was closed for about four days beginning March 18 for crews to repair the massive 10-foot-wide sinkhole.
Ms. Burns said she was so concerned that other drivers would not see the hole in the dark that after alerting authorities, she sat near the spot shining the lights from her car on the hole for hours, waiting for daylight.
"I think we are all neighbors," Ms. Burns said. "I hope somebody would do the same for me and my family."
Contact Marlene Harris-Taylor at mtaylor@theblade.com or 419-724-6091.
Guidelines: Please keep your comments smart and civil. Don't attack other readers personally, and keep your language decent. Comments that violate these standards, or our privacy statement or visitor's agreement, are subject to being removed and commenters are subject to being banned. To post comments, you must be a registered user on toledoblade.com. To find out more, please visit the FAQ.