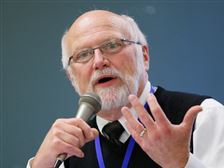 Dean Sparks
The Blade
Enlarge | Buy This Image
Local taxing bodies made their pitches for ballot measures Monday to the Lucas County Citizens Levy Review Committee, which grilled agencies about their plans for November tax levies.
Committee members praised the presentation from the Mental Health Recovery and Services Board, which is seeking to renew a 10-year, 0.50-mill levy. In fiscal year 2014, the agency anticipates about 26,000 Lucas County residents will seek and receive treatment for mental illness or addiction, which is a 4 percent increase over the previous year.
Meanwhile, the Mental Health Recovery and Services Board expects an estimated $4.1 million decrease in federal and state funding.
The committee questioned whether the recent Medicaid expansion would lead to any savings for the board, but Executive Director Scott Sylak believed that the expansion was too slow and the resulting projections were too inaccurate for the board to depend on any potential savings.
Billie Johnson, the president and CEO of the Area Office on Aging Northwestern Ohio, requested a 5-year renewal of the agency'‍s 0.45-mill levy that expires at the end of the year, as well as an increase of 0.15 mills for a total levy of 0.6 mills.
The agency cited an 11 percent increase in the Lucas County senior citizen population since 2010 and requested the increase to meet the growing demand for its four main areas of service: nutrition, home care, Alzheimer'‍s care, and senior center services.
In response to a committee question about how much levy money goes directly to services, agency representatives said only 8.5 percent of levy revenue is used for agency operations, while essentially 91.5 percent is distributed to service agencies within the community.
Dean Sparks, the executive director of Lucas County Children Services, brought an admittedly drastic levy request to the review committee. The agency wants to replace its five-year 1.4-mill levy with a seven-year 1.9-mill levy two years before the former is set to expire.
The agency blamed unpredictable placement costs, which are the costs required to place children in foster homes, for the increased funding needs. The agency also blamed reduced property valuations, a decrease in federal and state funding, and a rise in opiate and heroin abuse that led to an increase in cost of care for both parents and children.
The committee questioned the need for such a drastic levy request and asked for more information, including specific data showing how the agency is measuring up to federal requirements. Committee members also asked for information about the agency's outcomes rather than simply the number of people served.
All of the levies proposed are intended for the Nov. 4 general election. The levy review committee is expected to decide on its official recommendations to the county commissioners at its June 26 meeting.
Contact Kathleen Ashcraft at: kashcraft@theblade.com or 419-724-6050.
Guidelines: Please keep your comments smart and civil. Don't attack other readers personally, and keep your language decent. Comments that violate these standards, or our privacy statement or visitor's agreement, are subject to being removed and commenters are subject to being banned. To post comments, you must be a registered user on toledoblade.com. To find out more, please visit the FAQ.