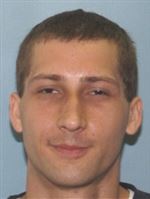 Matthew Stoughton.
BOWLING GREEN -- Authorities apprehended a man suspected in an armed robbery of a Bowling Green pharmacy today after scouring a cornfield.
Bowling Green police said Matthew Stoughton entered Jaks Public Pharmacy in the Wood County Hospital Medical Office Building around 9:15 a.m. today with a gun. He demanded prescription drugs and left.
Soon after, police saw Mr. Stoughton and tried to stop his vehicle. Police pursued the vehicle to the intersection of Eisenhour and Bradner roads near Pemberville, where the suspect's vehicle crashed and he ran away into a large cornfield.
The suspect was apprehended more than an hour after officials called off the search. He was apprehended near Kahler and Bradner road, according to a news release from the Bowling Green police.
A search among the eye-high corn stalks initially failed to find the man, said Wood County Sheriff Mark Wasylyshyn. An Ohio Highway Patrol airplane assisted with the seach, and a Monroe County Sheriff's Office helicopter flew over the area.
Guidelines: Please keep your comments smart and civil. Don't attack other readers personally, and keep your language decent. Comments that violate these standards, or our privacy statement or visitor's agreement, are subject to being removed and commenters are subject to being banned. To post comments, you must be a registered user on toledoblade.com. To find out more, please visit the FAQ.