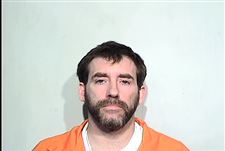 Jason Radigan.
A Detroit-area man admitted today that he robbed three Toledo area banks and a fourth bank in Indiana.
Jason Radigan, 39, of Farmington Hills pleaded guilty to four counts of bank robbery in U.S. District Court. He faces up to 80 years in prison when he is sentenced Nov. 4 by Judge Jeffrey Helmick.
Radigan admitted he robbed Charter One Bank, 5150 N. Summit St., on Jan. 30; Huntington National Bank, 5201 N. Summit St., on March 4; State Bank & Trust Co., 610 E. South Boundary St., Perrysburg, on April 9, and Wells Fargo Bank in Angola, Ind. on April 1.
Radigan was arrested three days after the Perrysburg robbery in Colorado.
Guidelines: Please keep your comments smart and civil. Don't attack other readers personally, and keep your language decent. Comments that violate these standards, or our privacy statement or visitor's agreement, are subject to being removed and commenters are subject to being banned. To post comments, you must be a registered user on toledoblade.com. To find out more, please visit the FAQ.